The Pavlova cake is a cake with a rustic appearance and delicate on the palate, of which you can easily eat two servings and still want to repeat. A very successful combination of flavors, with the crunch of the meringue, the creaminess of the whipped cream and the freshness provided by the red fruits.
To assemble the cake, I advise you to do it just when you are going to serve it. This way, it will not soften and will have a perfect texture. You can have the meringue base ready the day before, without problem, stored in an airtight container. Thus, before serving it, you will only have to whip the cream and decorate it at the last moment. If there is leftover cake, which I don't think there will be, it would have to be kept in the refrigerator.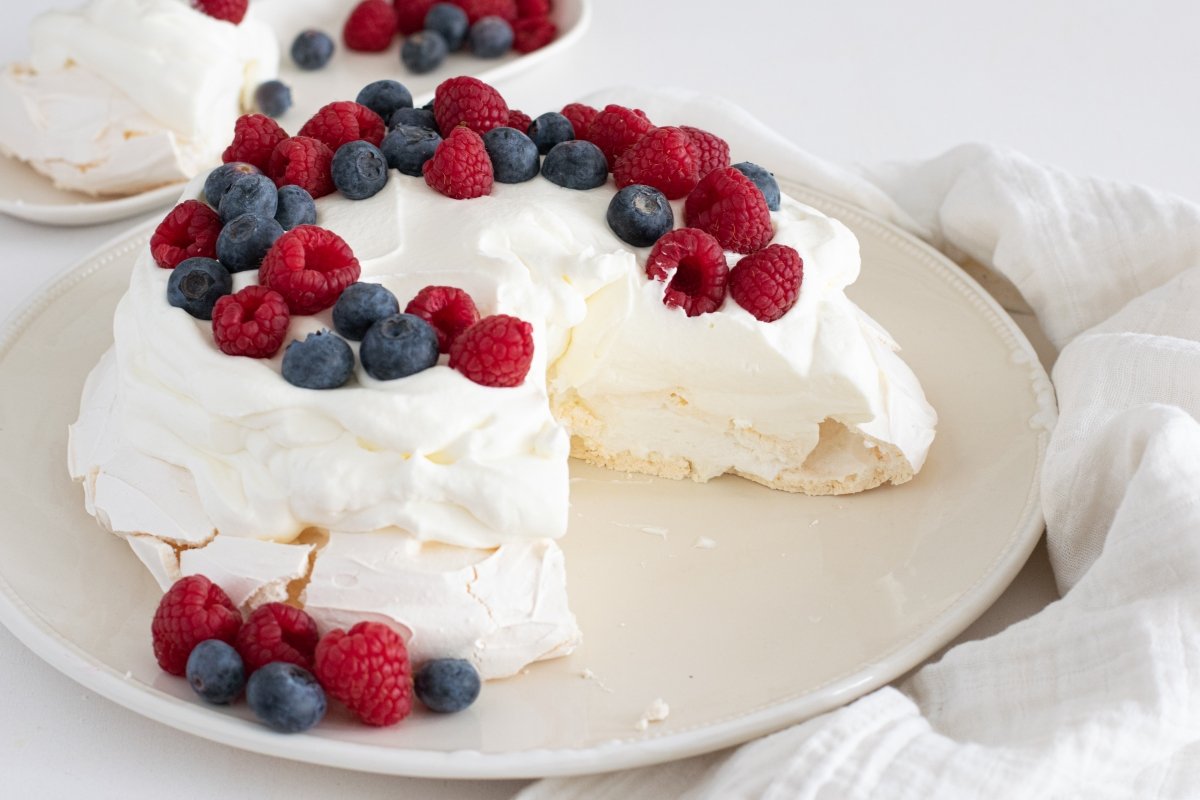 Marina Corma
Recipe information
Preparation time: 30 minutes

Cooking time: 1 hour

Total time: 1 hour and 30 minutes

Rations: 10

Category: dessert

Type of cuisine: New Zealander

Calories per serving (kcal): 358
Pavlova cake ingredients for 10 people
For the meringue base:

100 g egg white

165 g white sugar

10 g of corn flour (Maizena type)

5 g apple cider vinegar
For decoration:
400 g of whipping cream (minimum 35% fat)

50 g icing sugar

200 g of red fruits to taste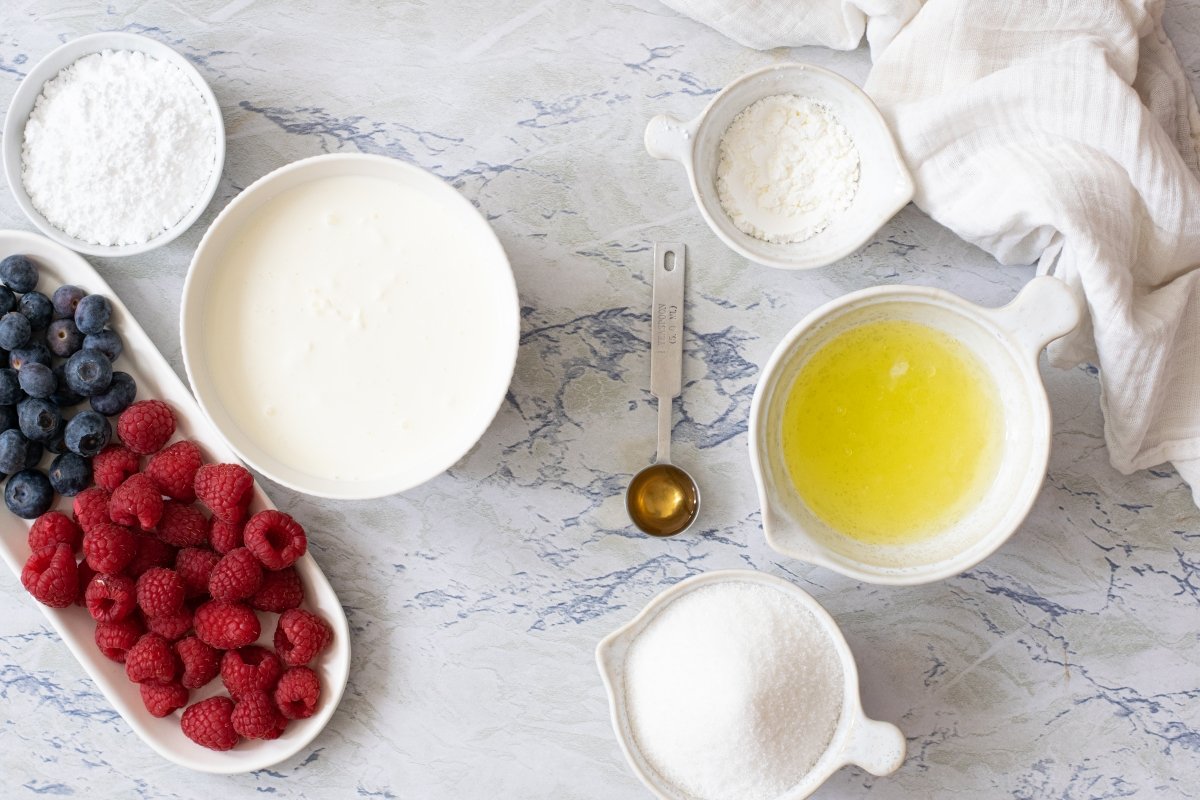 Marina Corma
How to make Pavlova cake
We put the 100 grams of egg white in a bowl and beat them at medium speed. We must make sure that the bowl has no traces of fat so that the egg whites are whipped correctly. We preheat the oven to 100 ºC with heat up and down.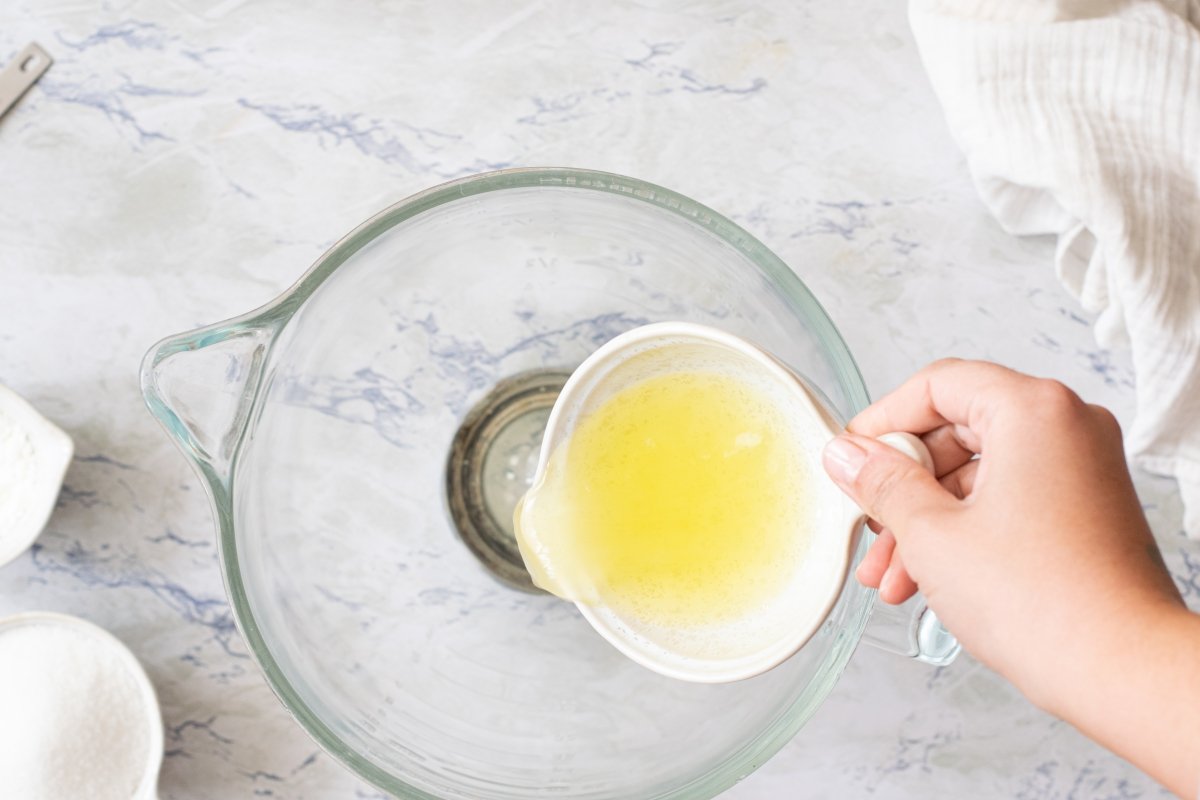 Marina Corma
When the egg whites begin to foam, add the 165 grams of white sugar and continue beating at medium speed.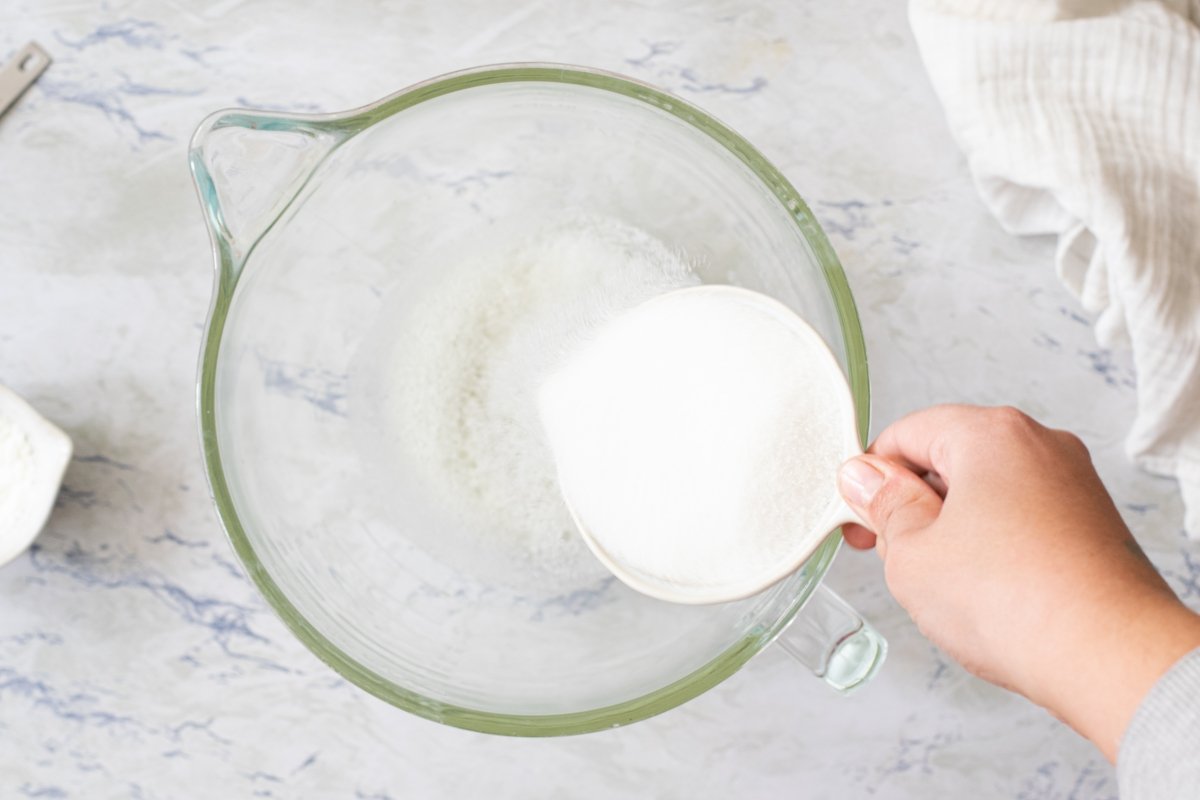 Marina Corma
Without stopping beating, we add the 10 grams of corn flour and, right after, the 5 grams of apple cider vinegar.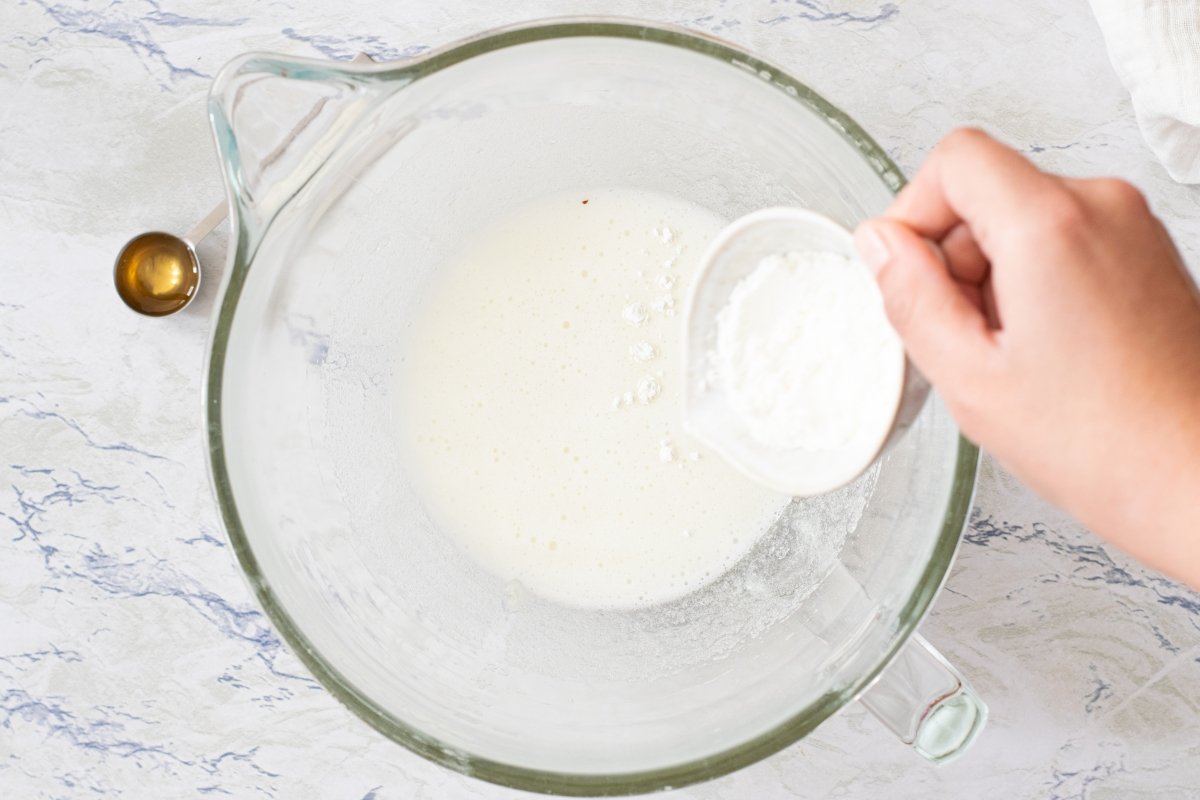 Marina Corma
We whip until we obtain a firm and shiny meringue.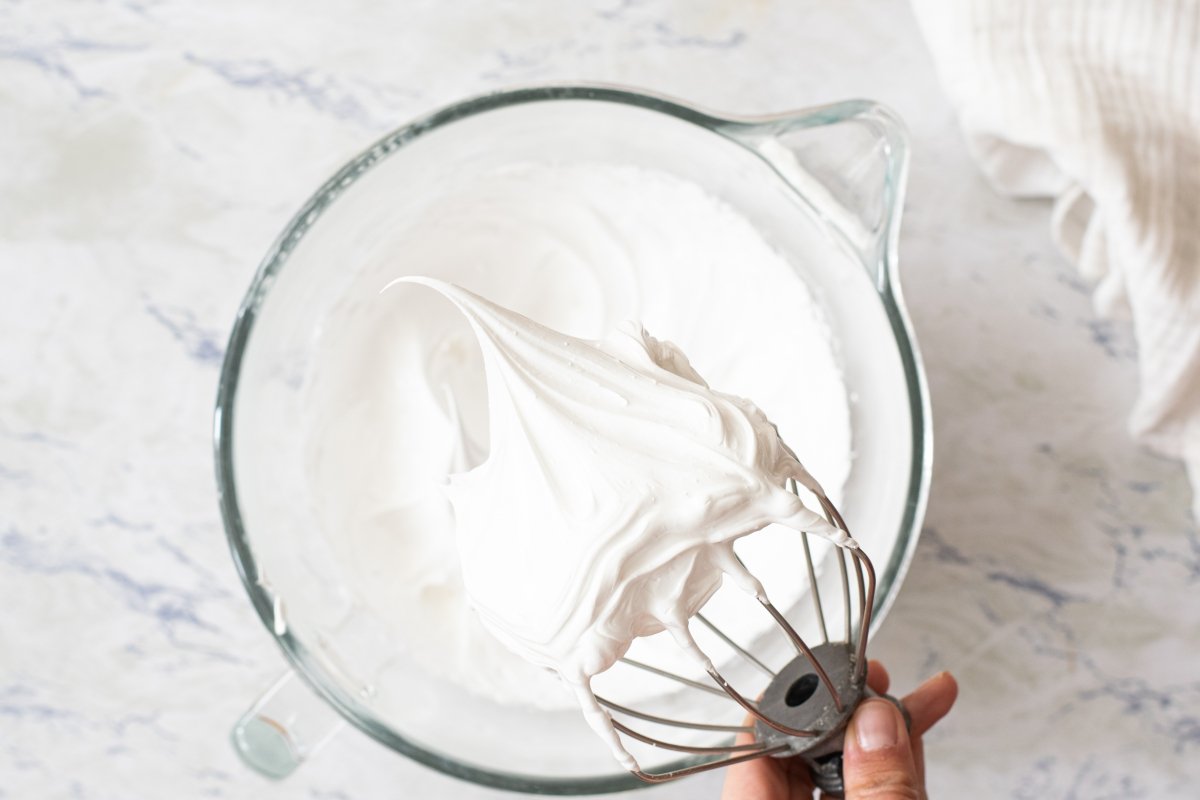 Marina Corma
Pour the meringue onto a baking tray lined with parchment paper. We can use a silicone spatula to spread all the meringue that we have in the bowl.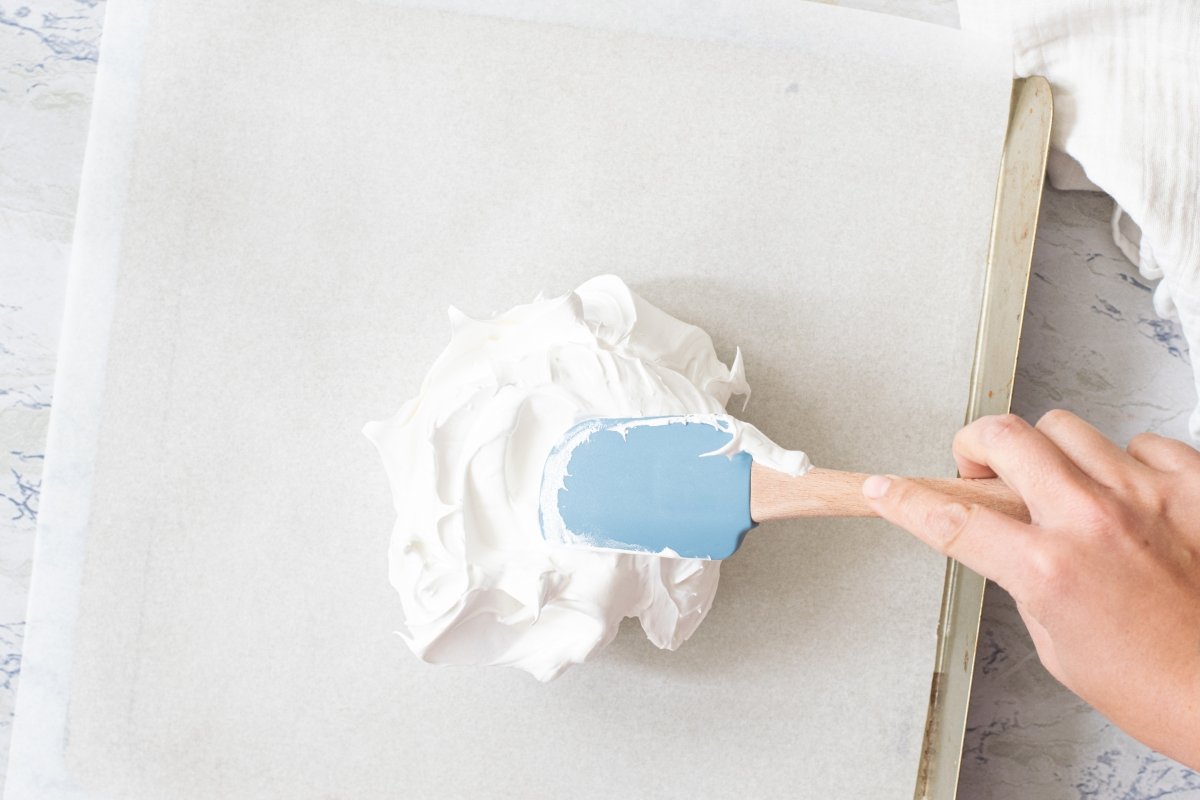 Marina Corma
We give a rounded shape to the meringue and flatten it slightly. It doesn't matter if there are peaks left, or if it isn't perfectly round. Bake for approximately 1 hour, until the meringue is completely dry on the outside.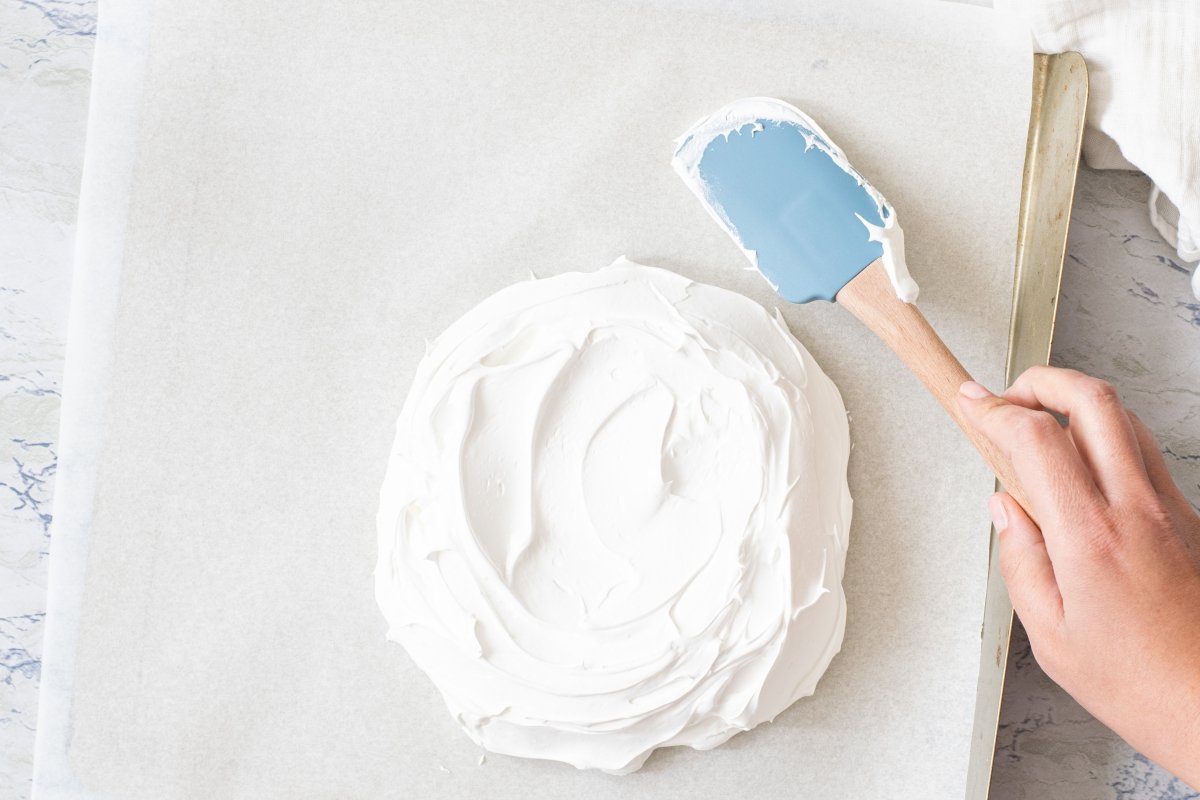 Marina Corma
Once baked, let it cool completely before decorating.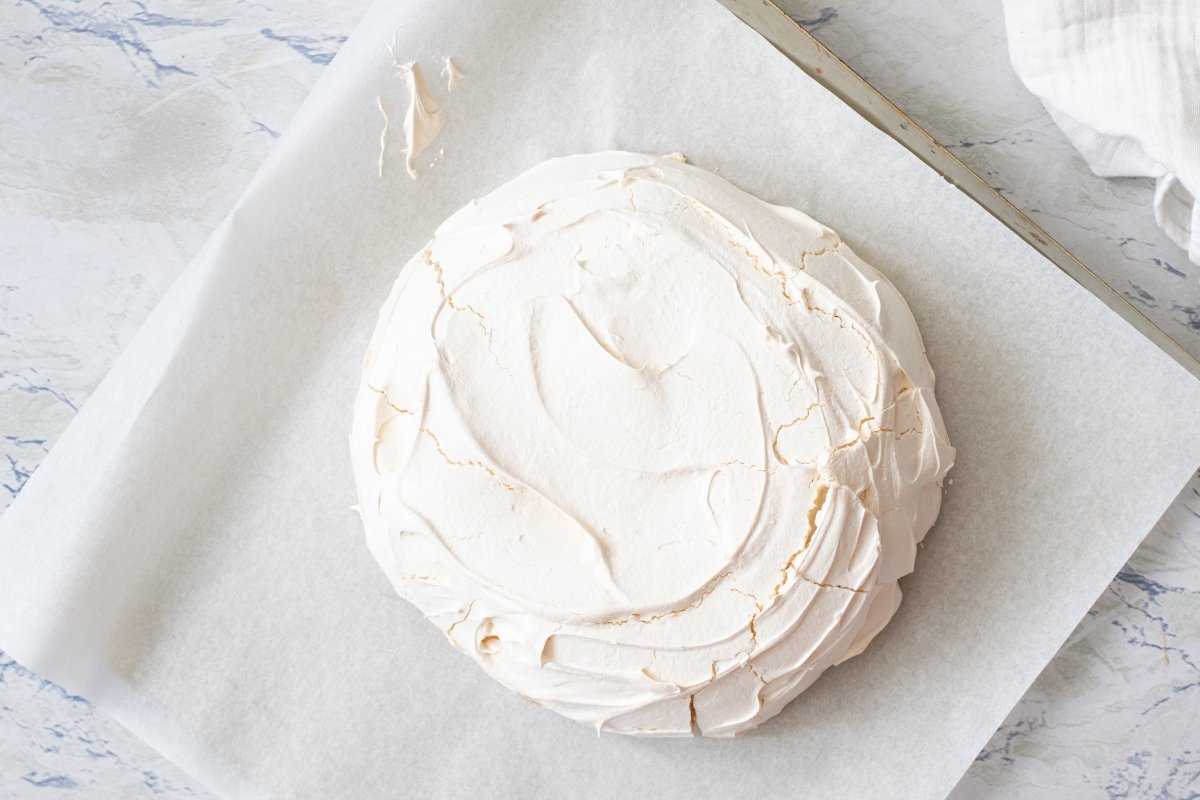 Marina Corma
We put the 400 grams of whipping cream together with the 50 grams of icing sugar in a bowl and whip at medium speed.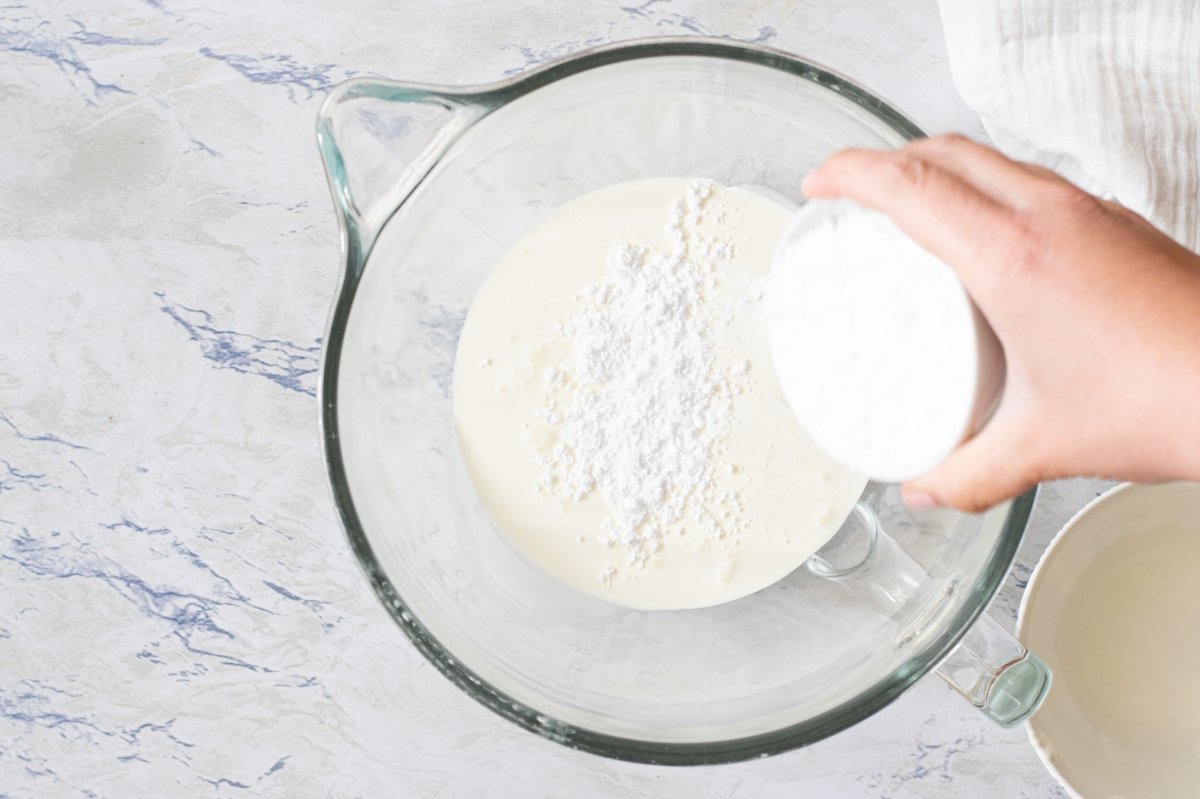 Marina Corma
We whip until we have a very firm cream.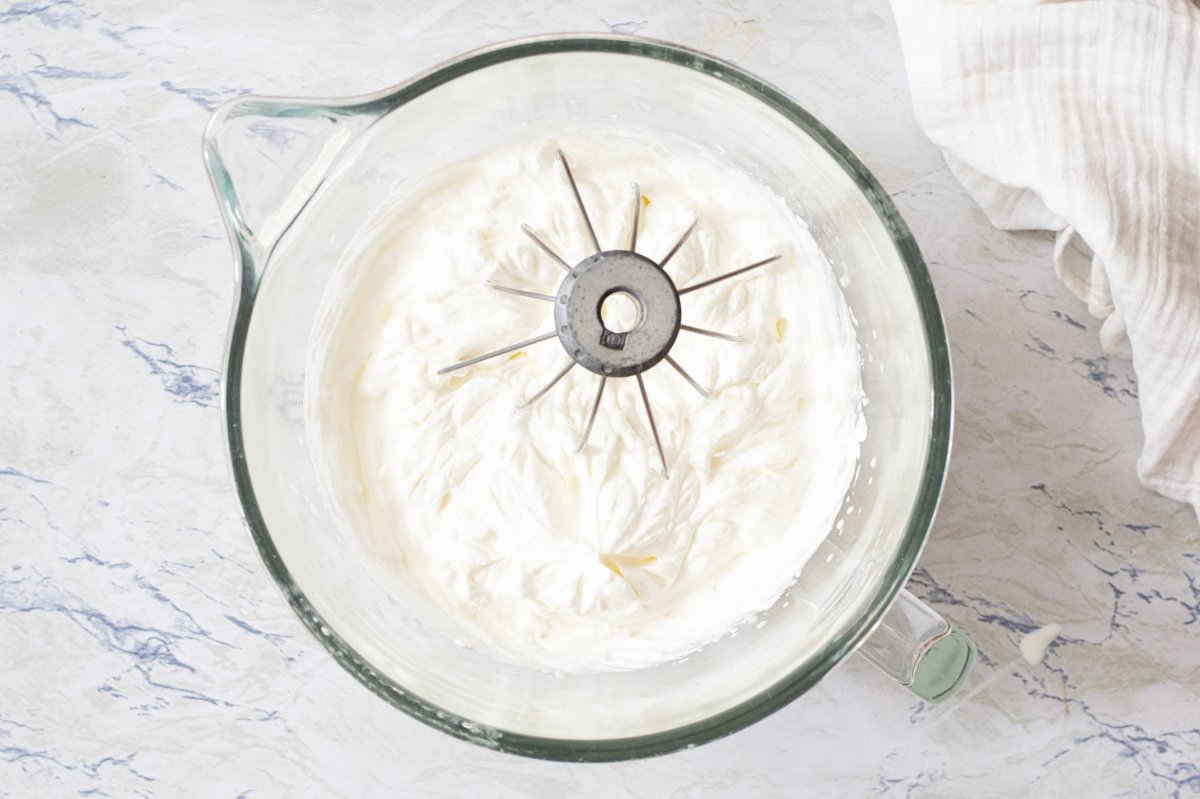 Marina Corma
We put the cream on the meringue base just at the time of serving.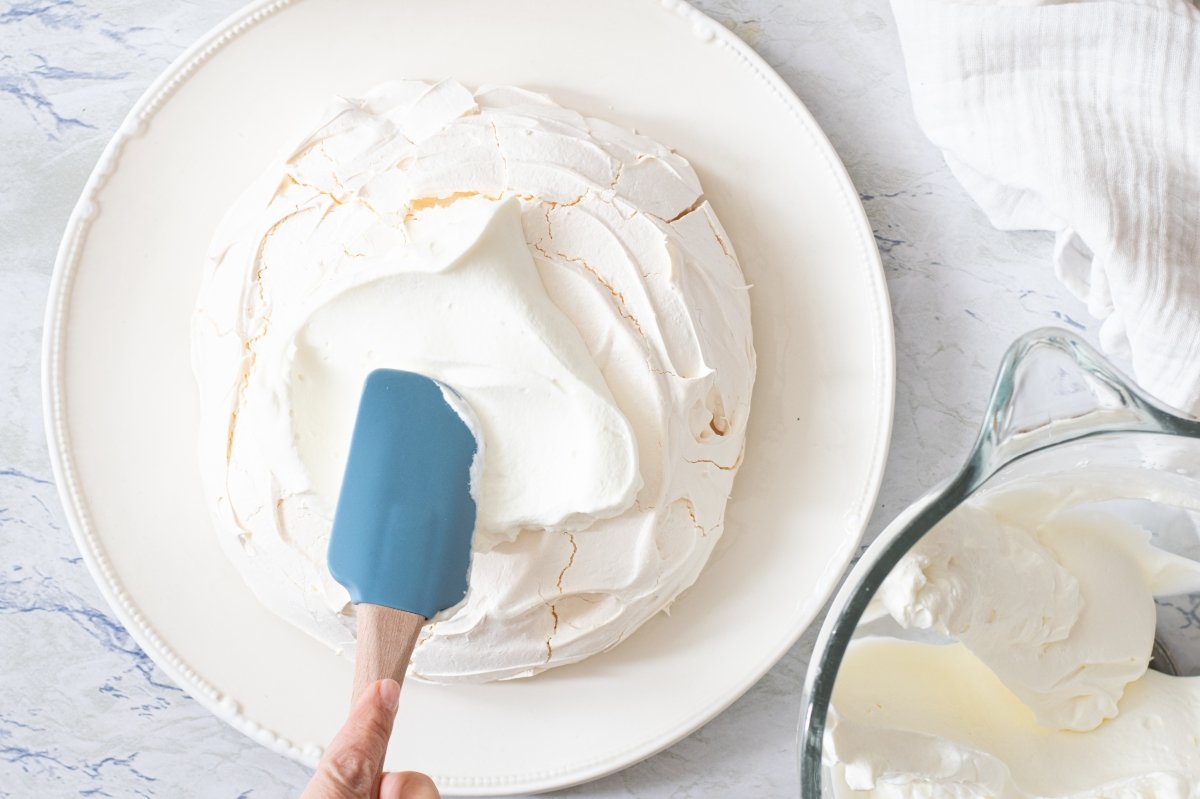 Marina Corma
We decorate the cake with the 200 grams of red fruits that we have chosen, and we now have our Pavlova cake ready to put on the table and enjoy.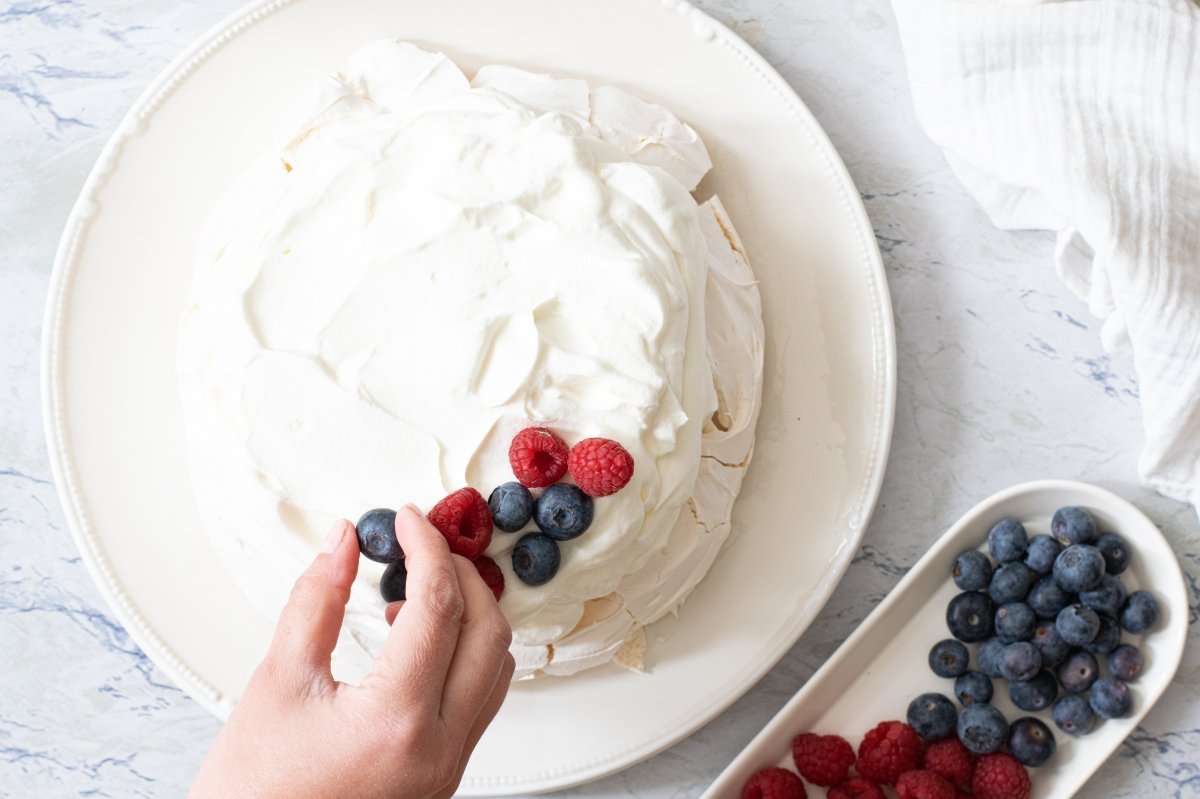 Marina Corma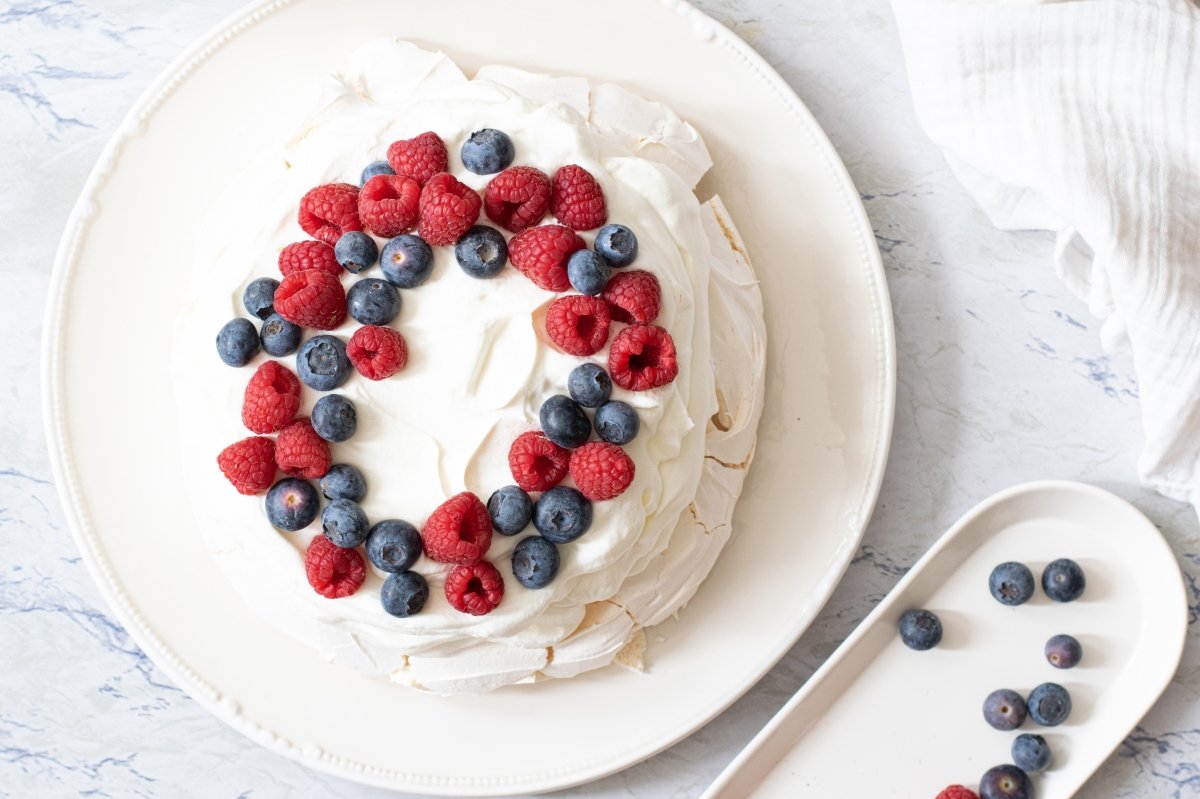 Marina Corma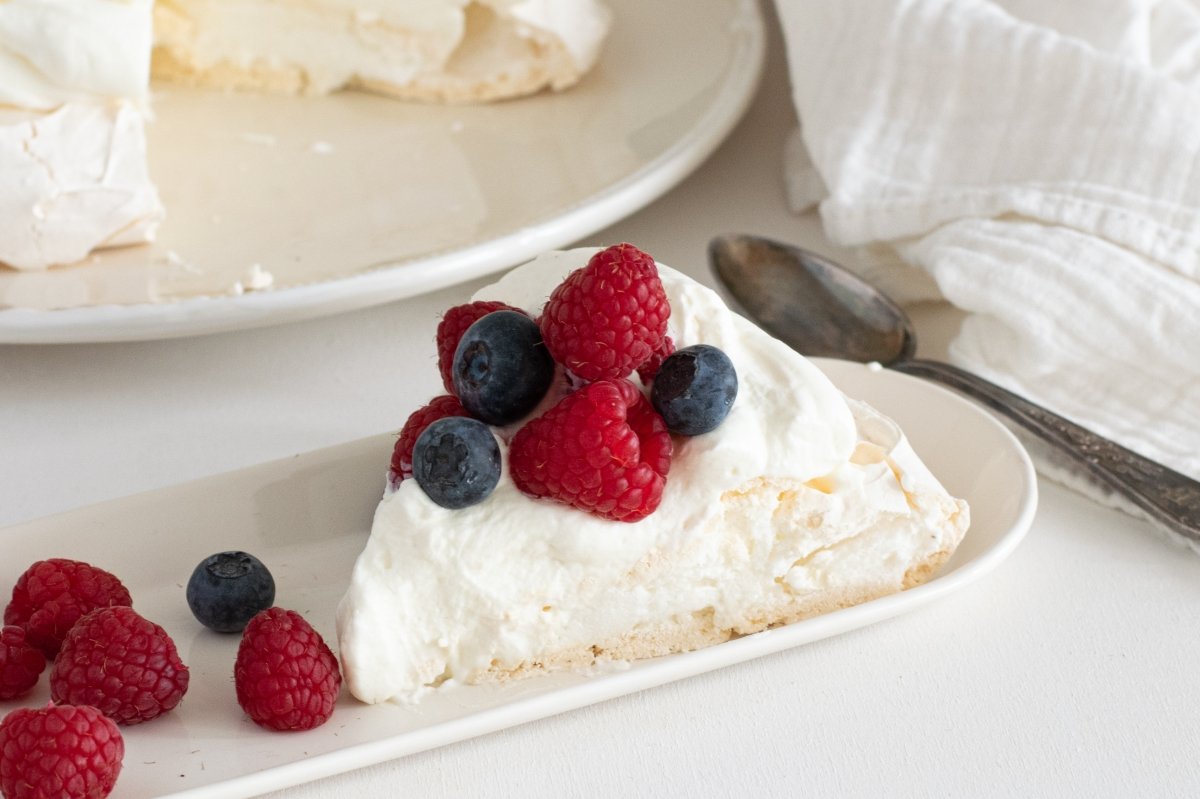 Marina Corma
Easy Preparation Summary
We begin to whip the egg whites at medium speed and preheat the oven to 100ºC.

When the egg whites begin to foam, add the sugar.

We add the corn flour and apple cider vinegar.

We whip until we have a firm and shiny meringue.

Pour the meringue onto a baking tray lined with parchment paper.

We shape the meringue into a round and bake for 1 hour.

We let it cool completely

We whip the cream with the icing sugar

We leave the cream very firm

We put the cream on the meringue base

We decorate with red berries