Dulce de leche is a preparation based on milk and sugar used in baking for fillings and toppings. With slow and prolonged cooking you obtain a caramelized result with an intense flavor. A true delicacy that becomes almost addictive. Widespread in Latin America, it also goes by other names such as manjar, cajeta or arequipe, becoming an institution in Argentina. With it, we are going to tell you how to make a delicious cake that you will succeed with. We are sure of it!
At the outset, you should know that you are not going to complicate your life, since the preparation of our dulce de leche cake It only has 5 ingredients. Just as you read it. Only 5. It is a cold, no-bake cake with a mousse filling and a cookie base. It couldn't be easier. What will cost you the most is the wait, since it needs a few hours of cold for it to set.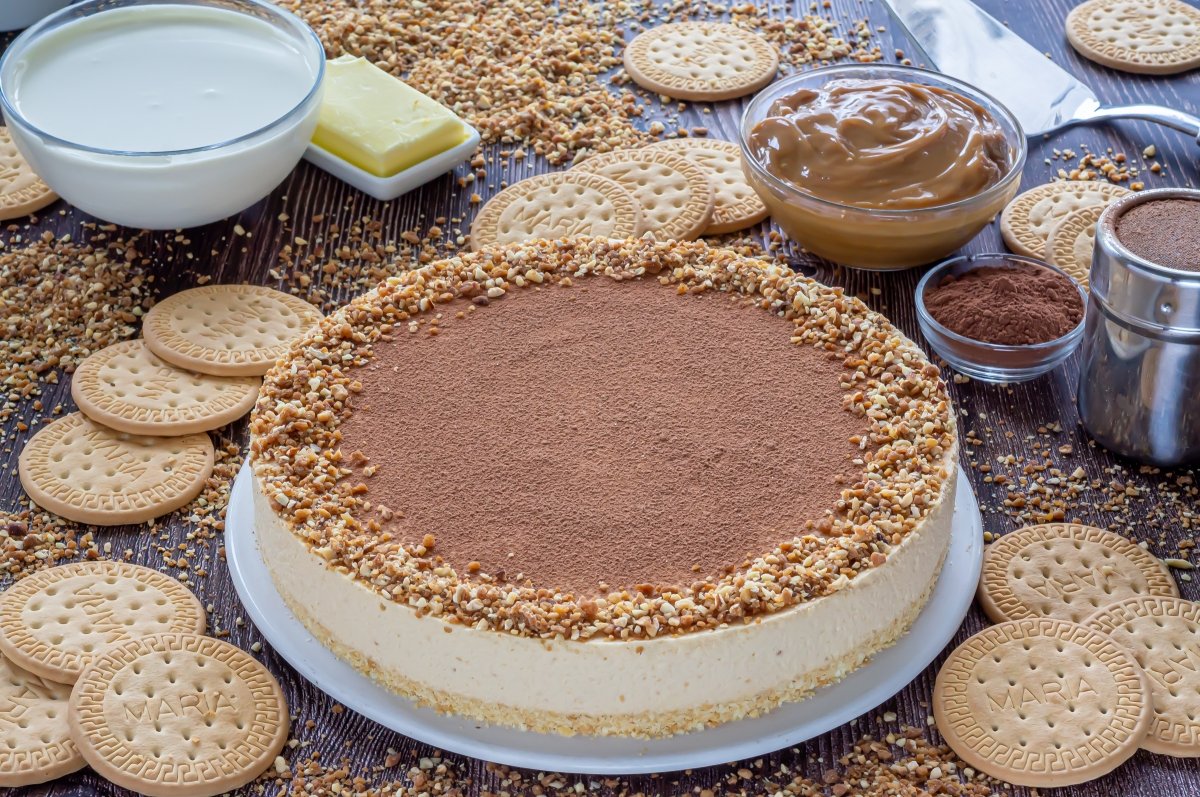 Damian Serrano
Finally, as you will see in the photos, we also propose a very cool, but at the same time very simple, way to decorate it with a couple more ingredients: chocolate powder and crocanti. If in the end you serve it with a little classic whipped cream, it will be the best.
Recipe information
Preparation time: 20 minutes

Total time: 4 hours and 20 minutes

Rations: 8

Category: cake shop

Type of cuisine: international

Calories: 395 kcal per 100 g
Ingredients for the dulce de leche cake for 8 people
350 g of dulce de leche

400 g whipping cream

100 g of cookies (marie type, digestive or similar)

50g butter

6 g of neutral gelatin powder or 3 gelatin sheets
To decorate (optional):
Pure chocolate powder

Almond crocanti
To serve (optional):
Material:
Circular mold with removable bottom, 22 cm in diameter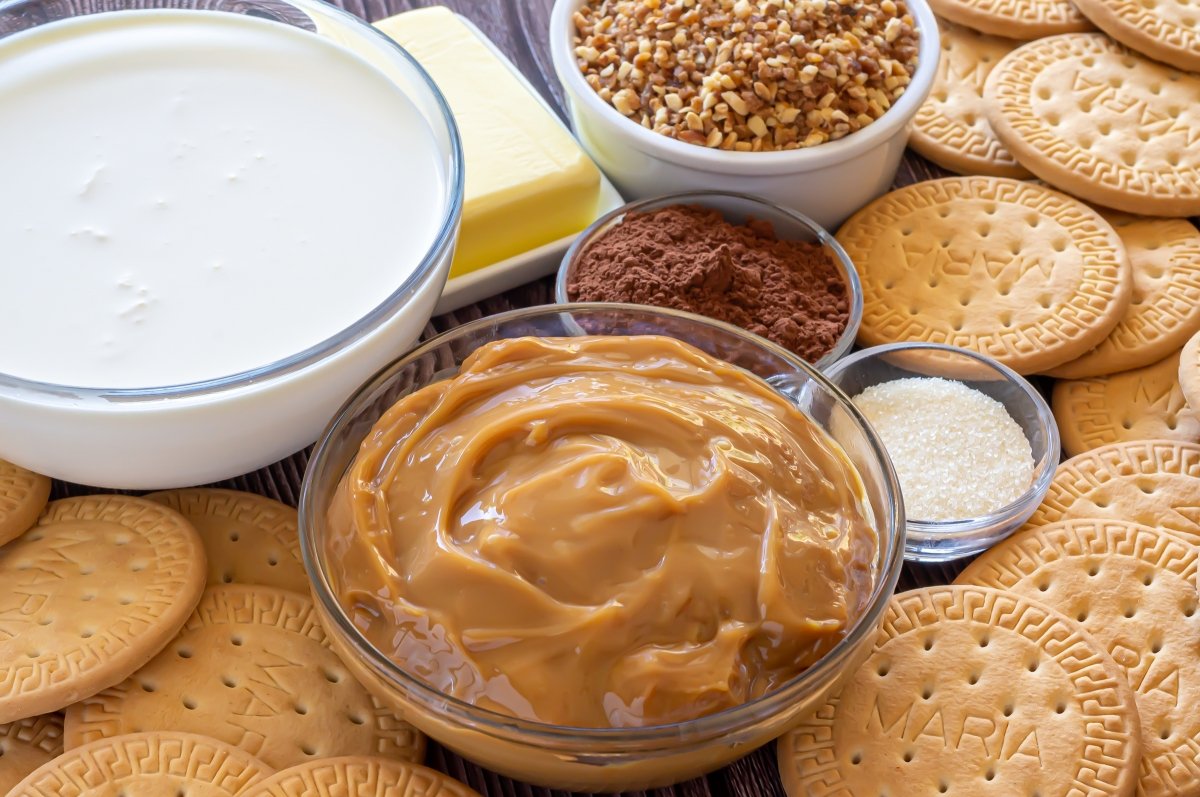 Damian Serrano
How to make dulce de leche cake
We will start by crushing the cookies. To do this, the easiest way is to do it with the food processor or the chopper accessory of the hand mixer. They have to be like flour. They can also be placed in an airtight bag and flattened with a rolling pin.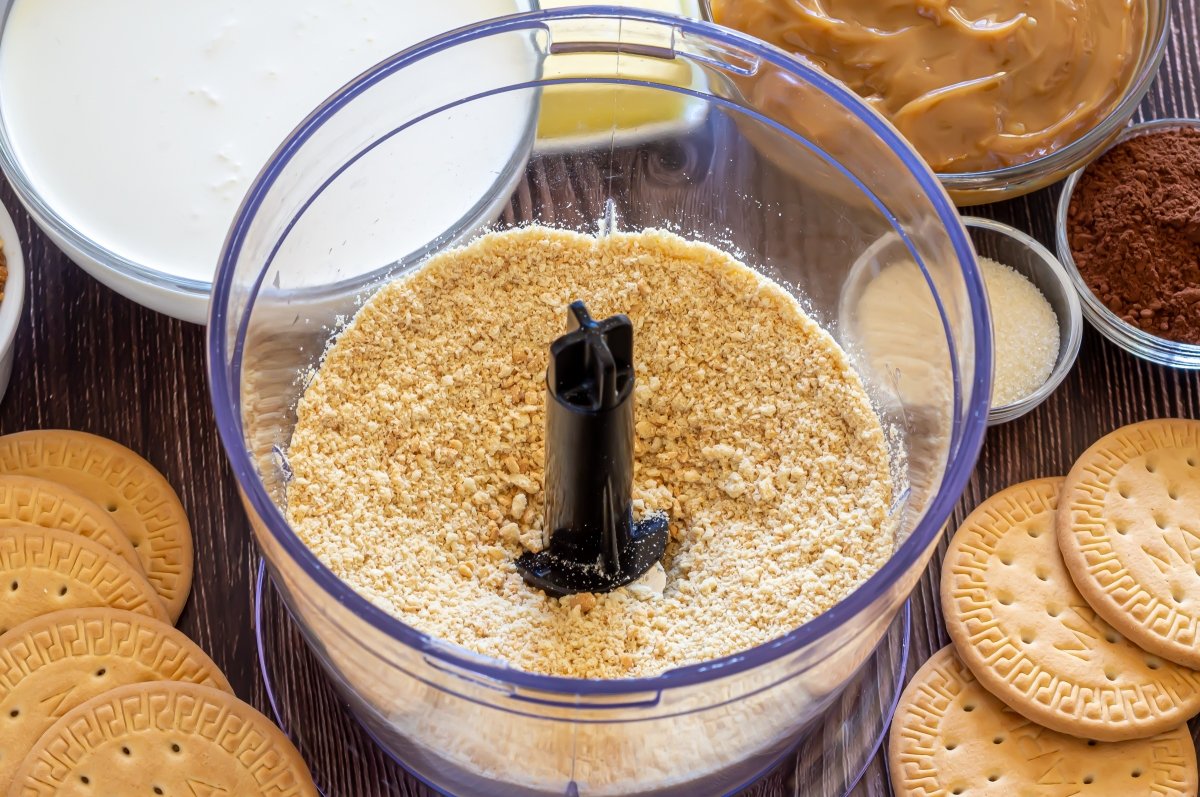 Damian Serrano
Line the mold with baking paper on the base. On the walls you can leave it as is or cover it with a transparent acetate sheet for pastry and secure it with clamps.
Melt the butter well in a saucepan over medium heat or in the microwave for a few seconds. Mix with the cookies. Cover the base of the mold with the cookie mixture. It should be very compact; to do this, we can press it with the bottom of a glass. Reserve.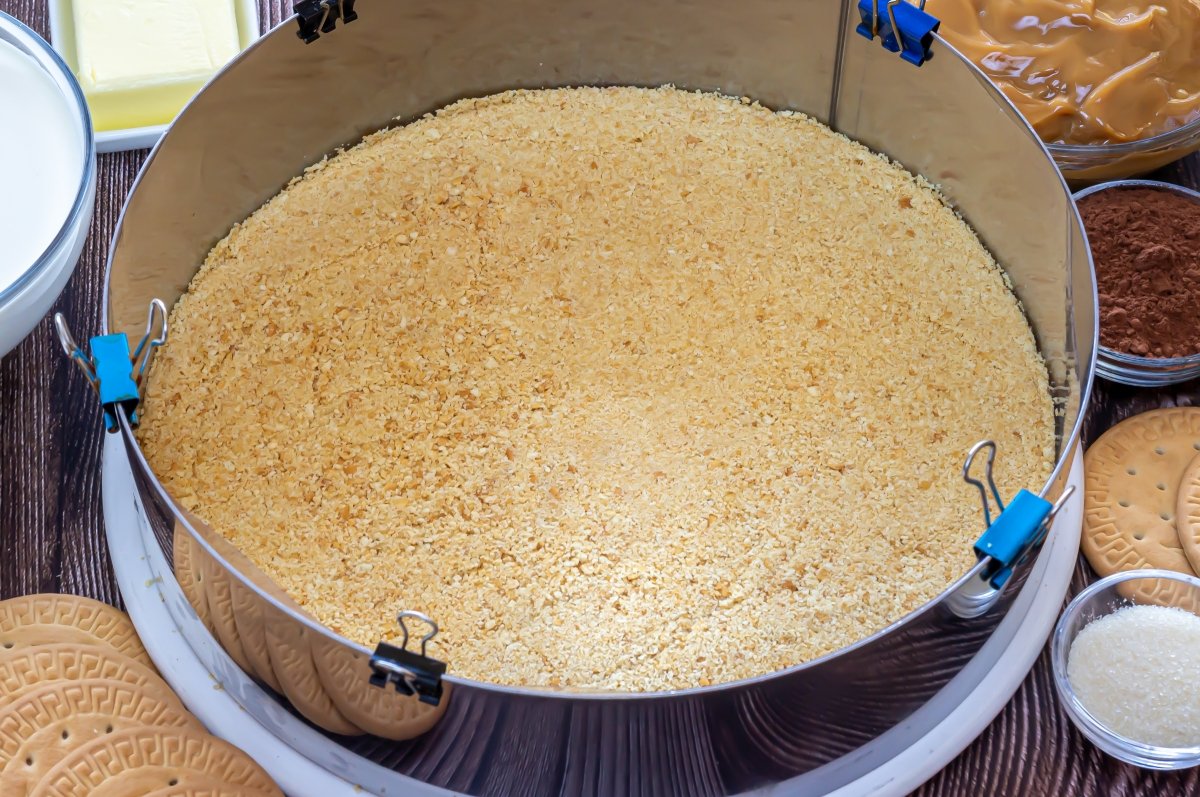 Damian Serrano
Now we must hydrate the gelatin as instructed by the manufacturer. If they are sheets, they should be soaked for a few minutes. If it is powder, as in our case, just put it in a small bowl with one or two tablespoons of water.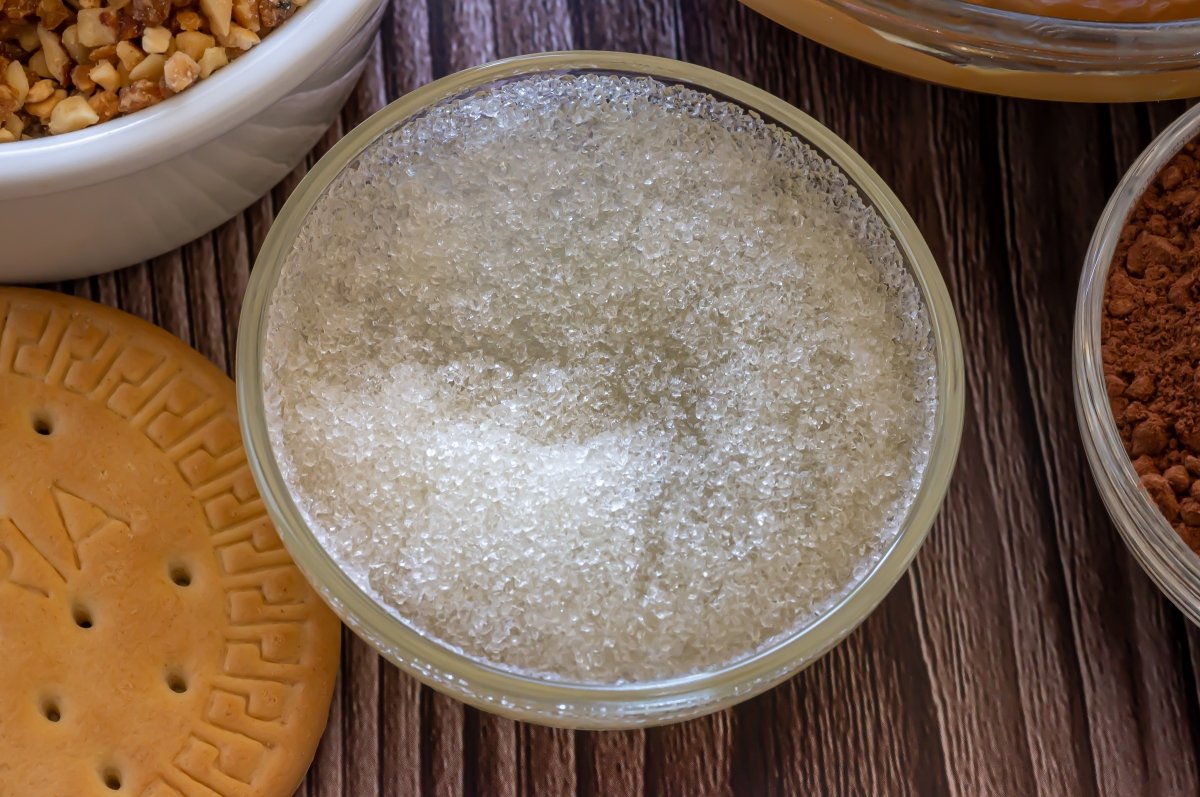 Damian Serrano
We heat 100 g of the cream. When it boils, we remove it from the heat and dissolve the dulce de leche in it. We heat again, stirring frequently until the new mixture is very hot. At that moment, we add the gelatin and integrate well with some whisks.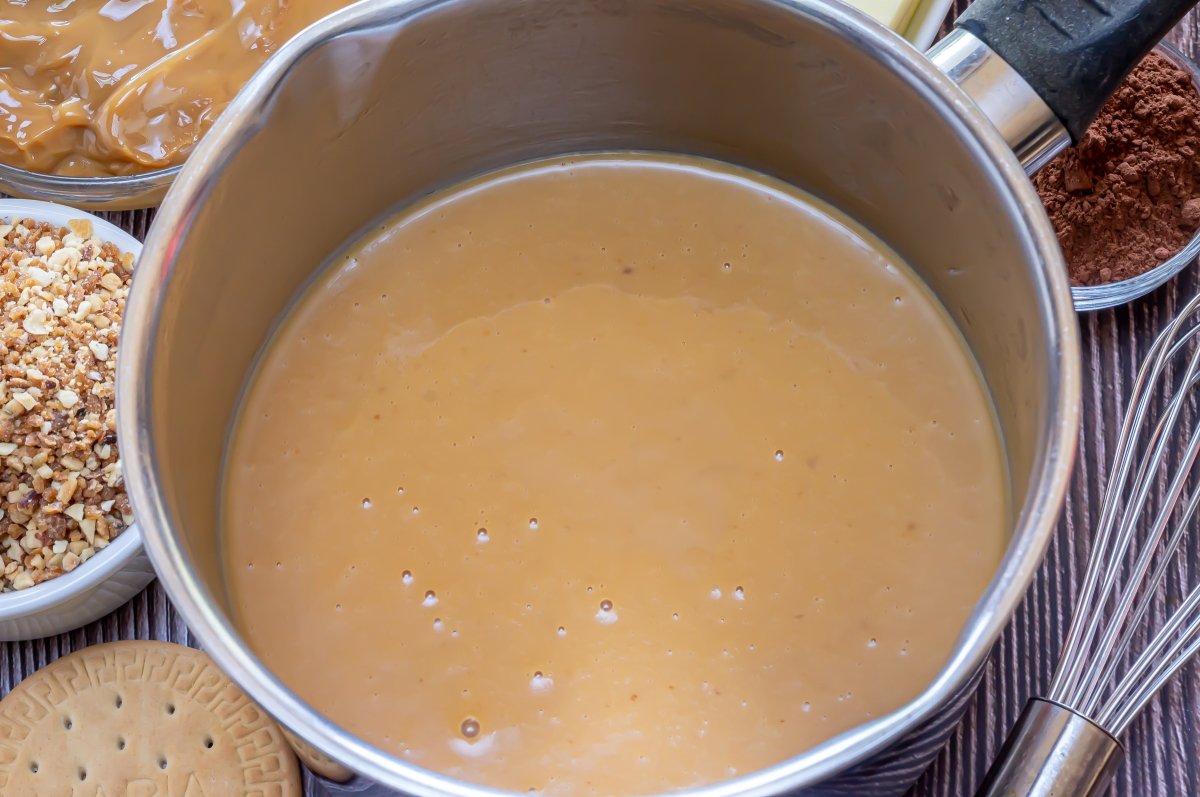 Damian Serrano
We whip the cream with hand or electric whisks. It will be enough for it to be semi-assembled, that is, for it to gain body and thicken.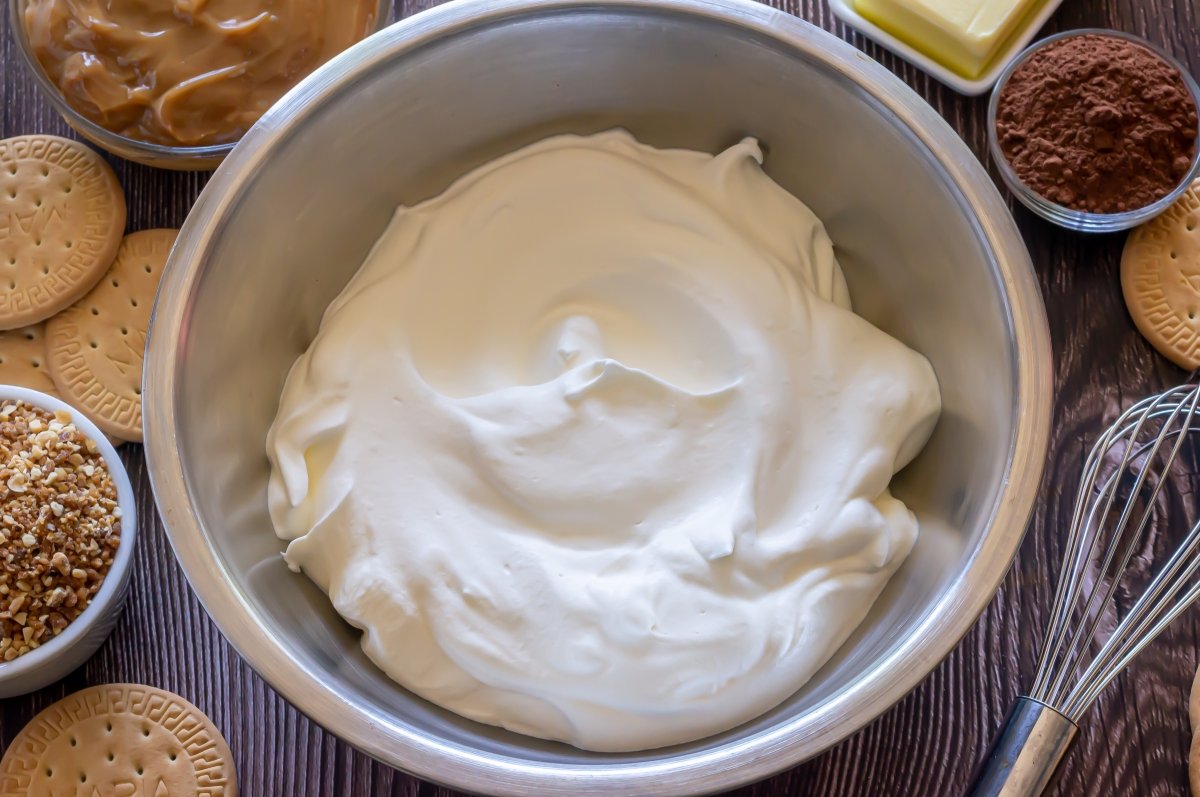 Damian Serrano
We integrate the dulce de leche mixture into the whipped cream. We do it two or three times, with enveloping movements, so that it does not go down too much.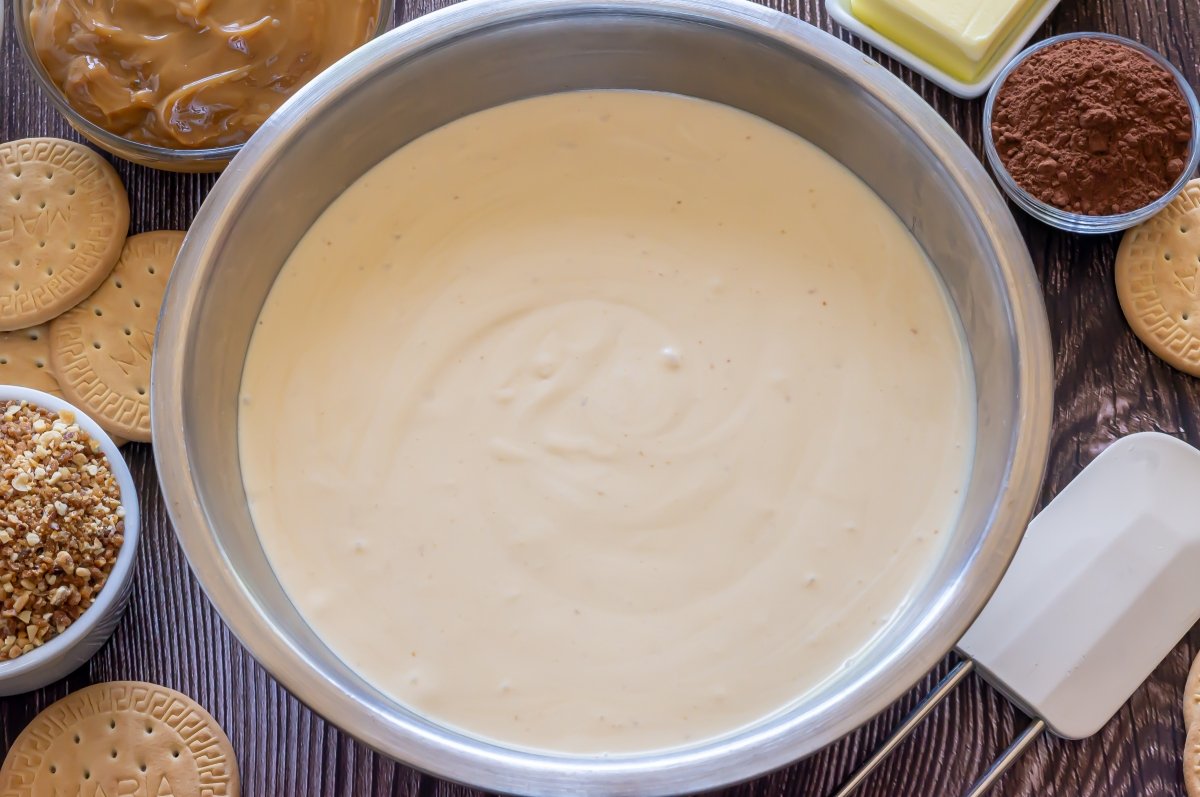 Damian Serrano
We carefully transfer the filling into the mold and place it in the refrigerator for a minimum of 4 hours, until it has set well, or better until the next day.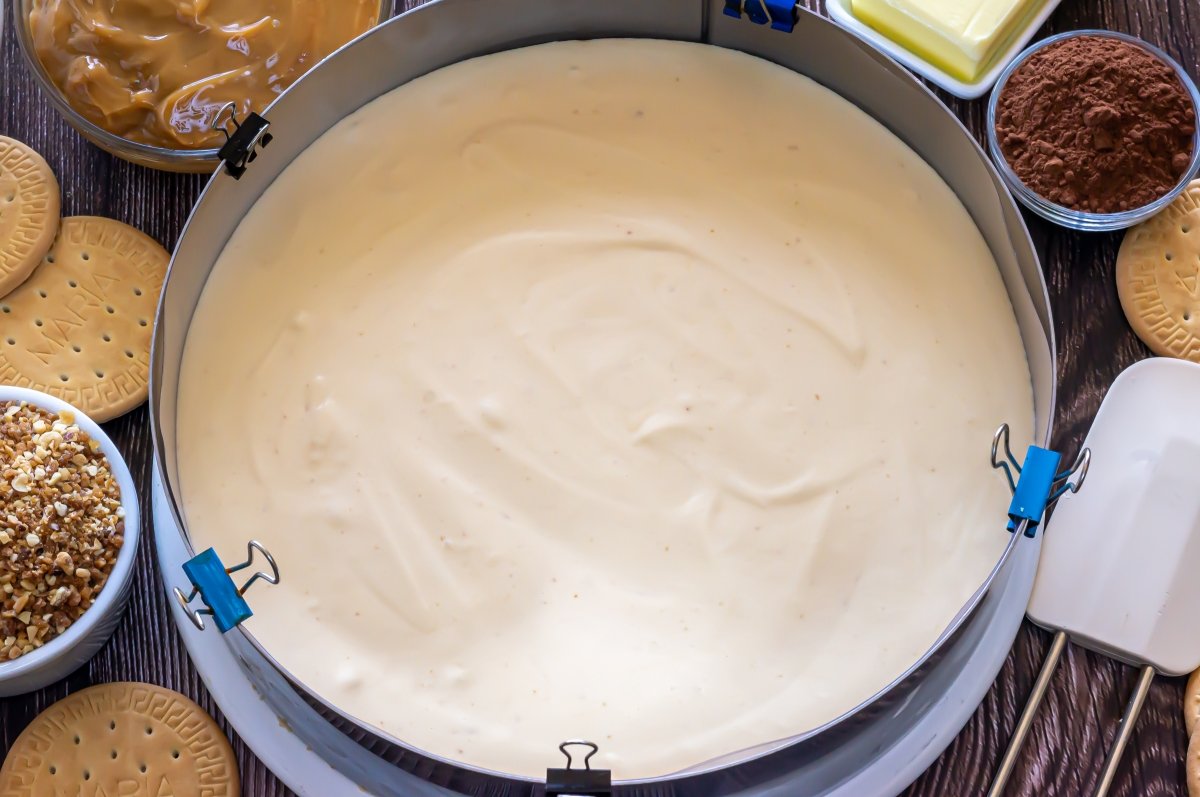 Damian Serrano
Once set, we unmold the dulce de leche cake. If we use the acetate sheet, we remove the mold directly and carefully peel off the sheet by pulling it. If we did it without it, we first ran a knife around the cake to loosen it from the edges.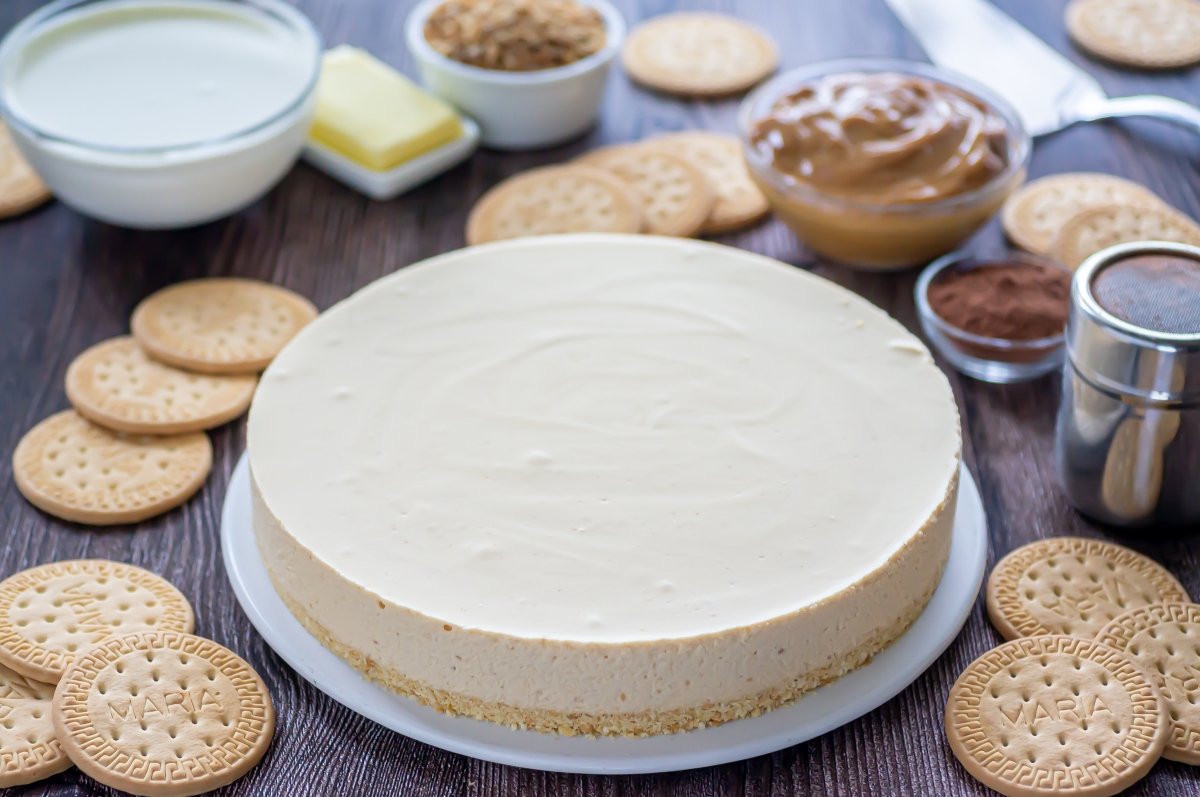 Damian Serrano
As a decoration suggestion, we can cover the surface with chocolate powder using a sprinkler or putting the chocolate powder in a strainer. Finally, we decorate the edges with a band of almond crocanti.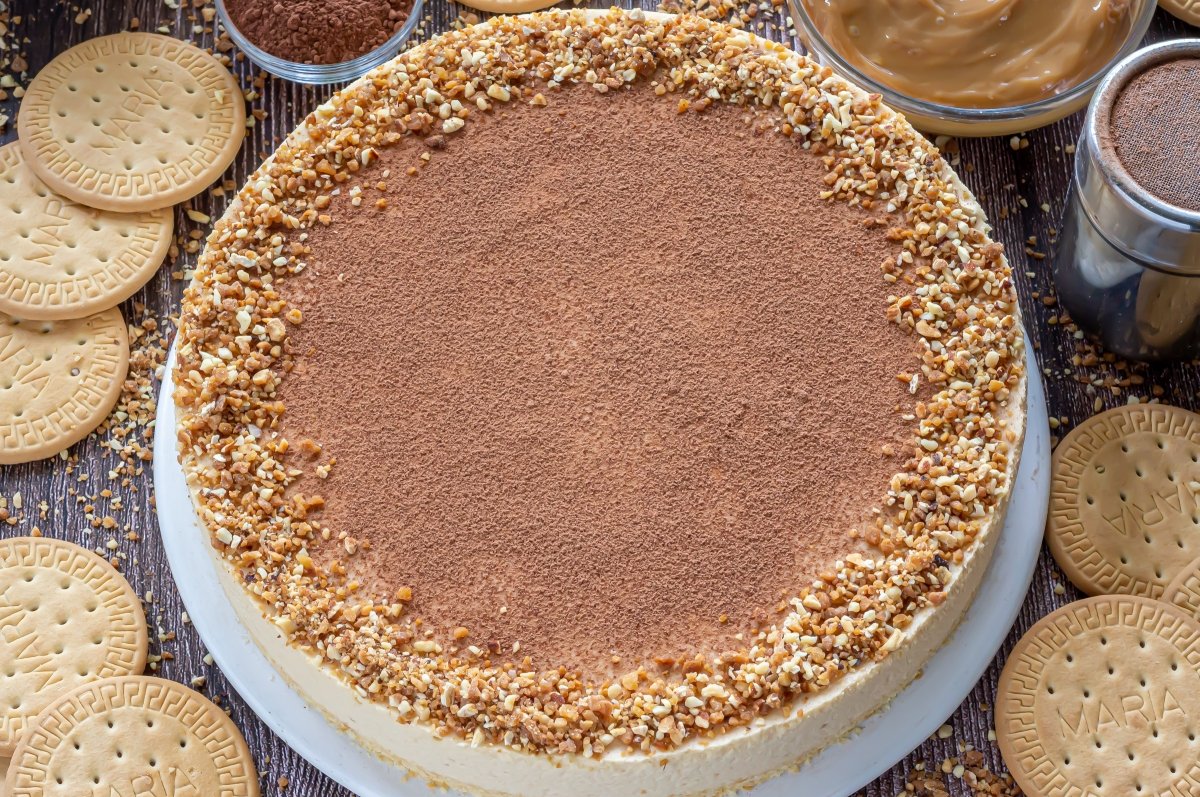 Damian Serrano
Serve with whipped cream if desired.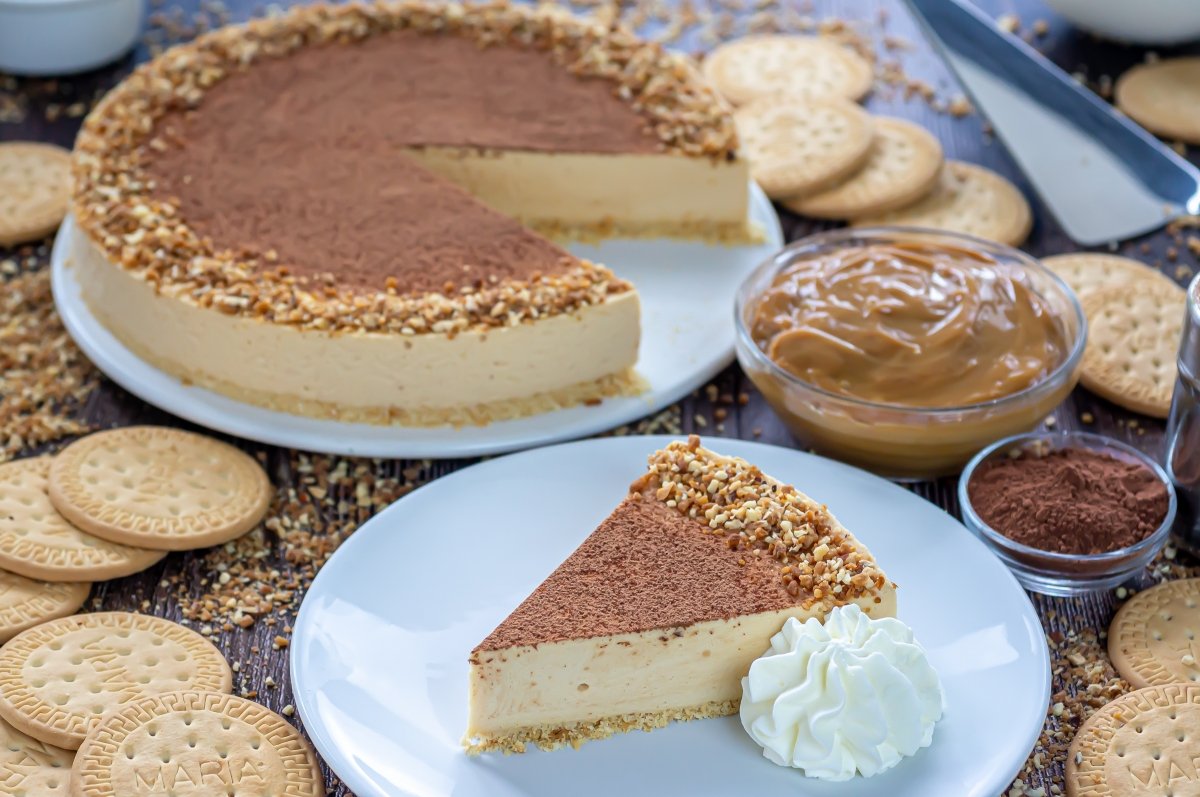 Damian Serrano
Easy Preparation Summary
Crush the cookies

Mix them with the melted butter

Place a circle of baking paper on the base of the mold. If desired, line the walls of the mold with transparent baking acetate.

Cover the base of the mold with the cookie mixture. Compact well

Soak the gelatin

Heat 100 g of cream and gradually add the dulce de leche.

Heat the mixture and, when it boils, remove from the heat, add the gelatin, mix well

Whip the rest of the cream. It has to be semi-assembled

Gradually add the dulce de leche to the cream.

Transfer the mixture to the mold. Chill for at least 4 hours or overnight

Demolding

Decorate to taste. For example, with chocolate powder and almond crocanti