Preparing a millefeuille at home is very easy. This is a perfect dessert when we are looking for a relatively quick and tasty dessert. It is a clear example that with just a few ingredients you can achieve a result of 10. On this occasion, we have prepared a millefeuille filled with a chocolate cream and a chocolate glaze that, together with the caramelized puff pastry, form an irresistible mixture.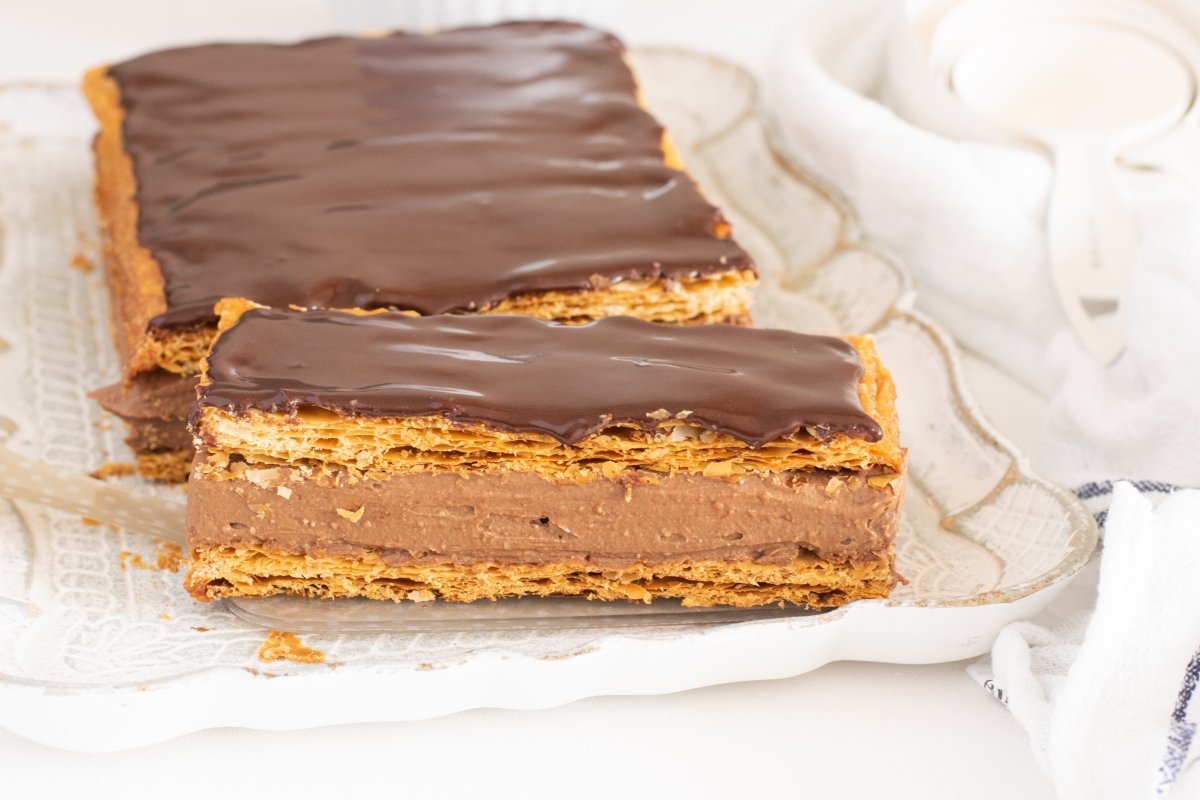 Marina Corma
Recipe information
Preparation time: 15 minutes

Cooking time: 30 minutes

Total time: 45 minutes (plus cooling time)

Rations: 10

Category: desserts

Type of cuisine: Spanish

Calories per serving (kcal): 282
Chocolate millefeuille ingredients for 10 people
For the chocolate cream:
235 g whole milk

55 g of whipping cream (minimum 35% fat)

3 eggs M

35 g of corn flour (Maizena type)

120g chocolate
For the puff pastry:
1 sheet of butter puff pastry

4 tablespoons icing sugar
For the glaze:
75 g icing sugar

15 g unsweetened cocoa powder

1 tablespoon whole milk

1 teaspoon vanilla extract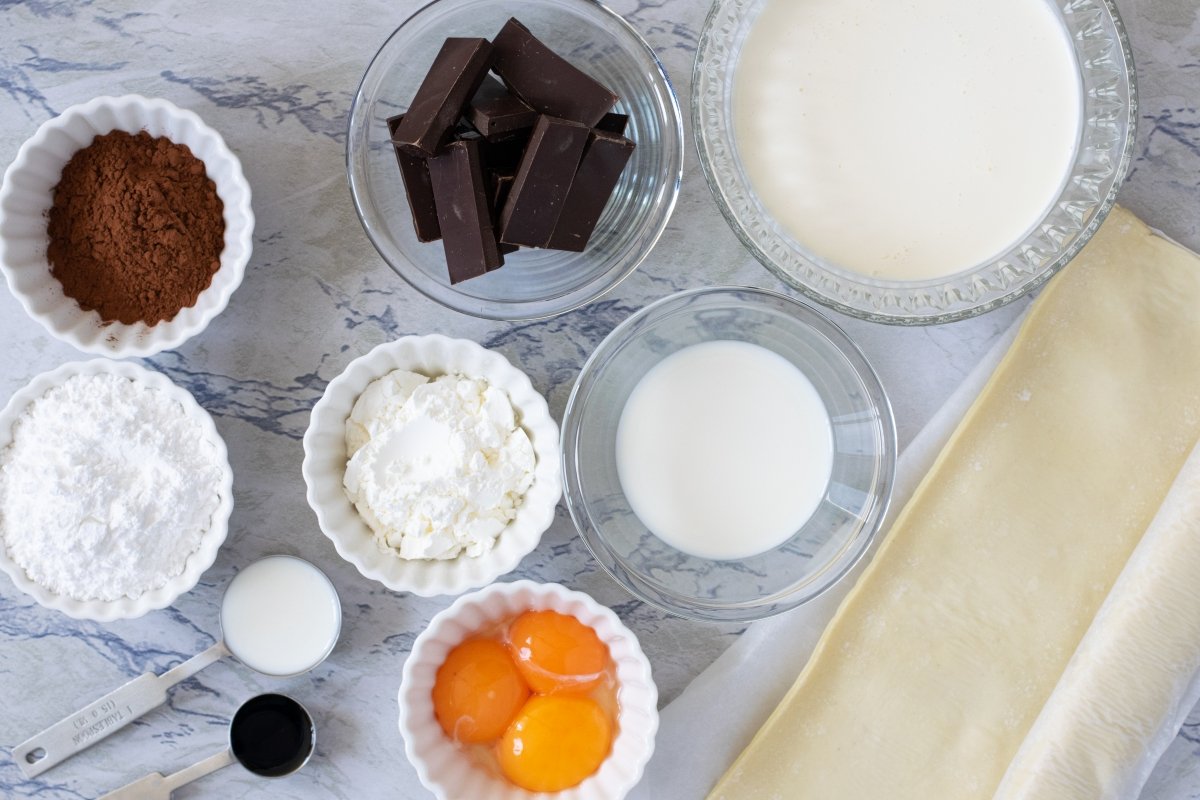 Marina Corma
How to make chocolate millefeuille
We will start by preparing the chocolate cream. To do this, put 235 grams of whole milk, 55 grams of whipping cream, 3 M eggs and 35 grams of corn flour in a saucepan. We mix well until there is no trace of corn flour left and place over medium heat, constantly stirring with a whisk until it thickens.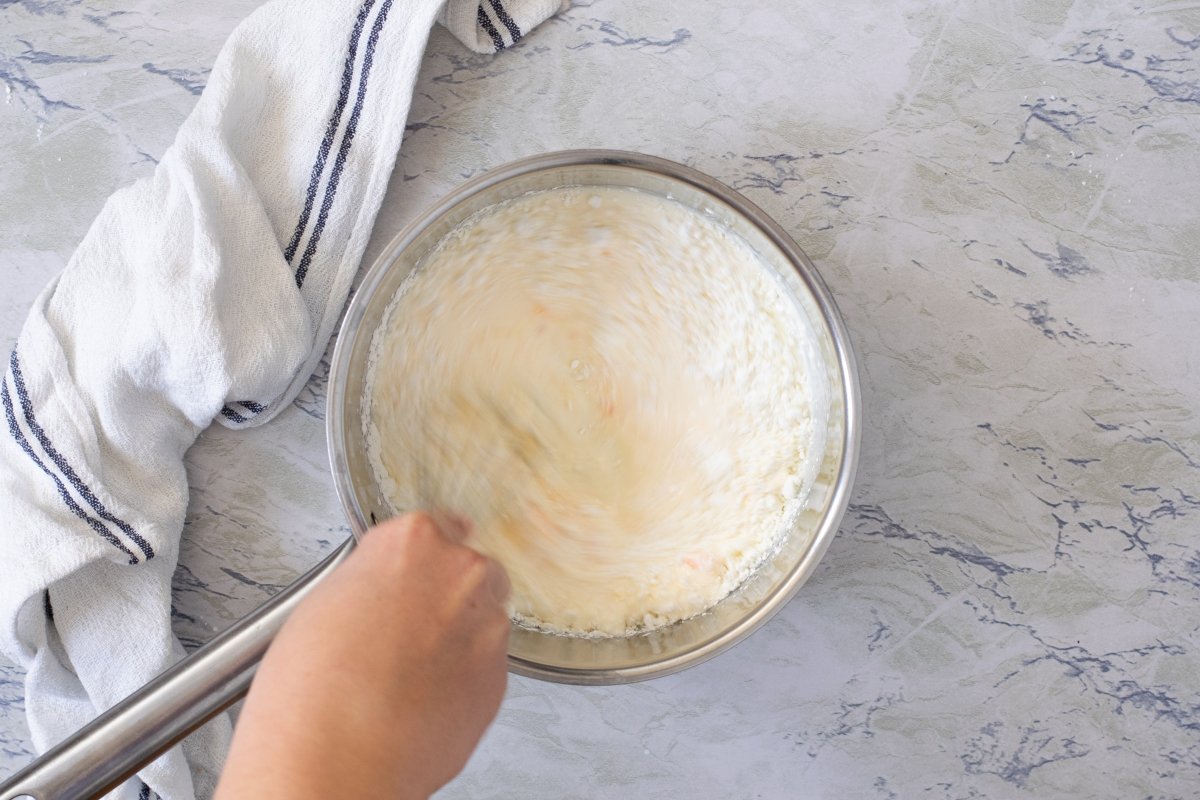 Marina Corma
Once it has thickened, remove from the heat and transfer to a bowl.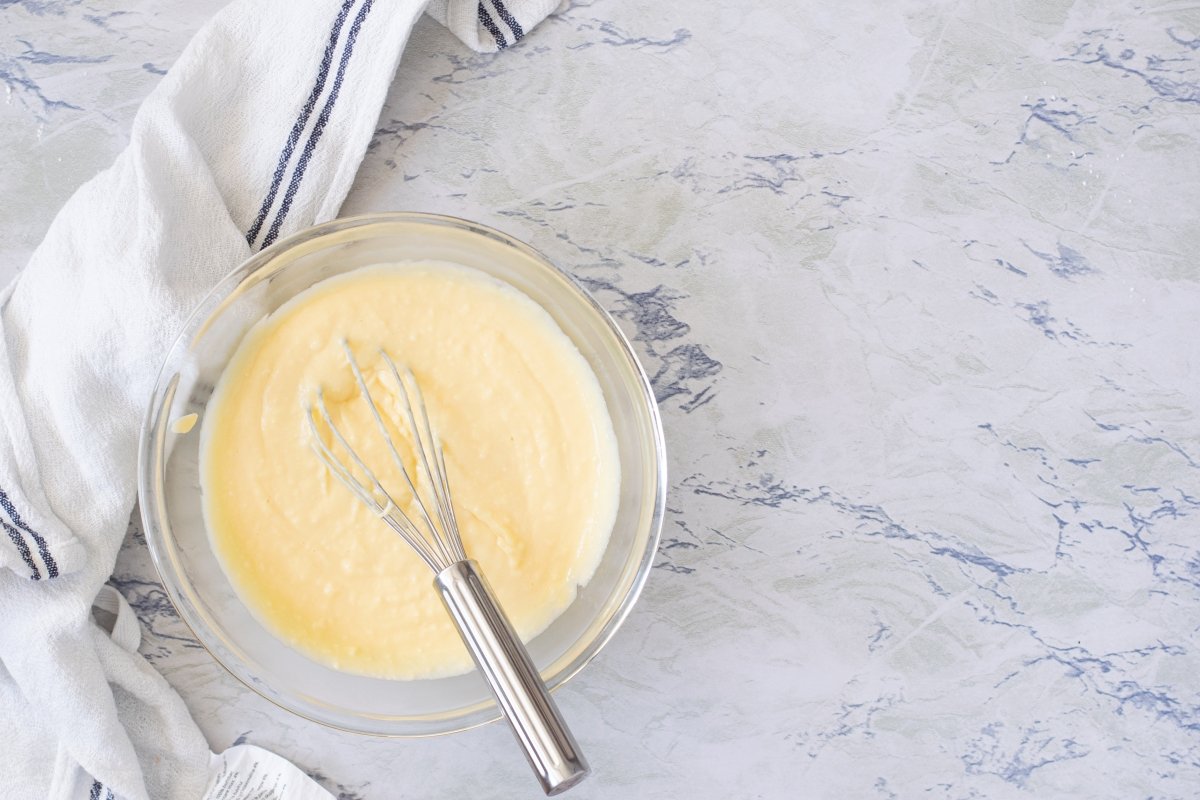 Marina Corma
Without letting it cool, we add the 120 grams of chocolate and mix well. We cover with transparent film and let it cool a little. We reserve in the refrigerator for a couple of hours so that it takes shape.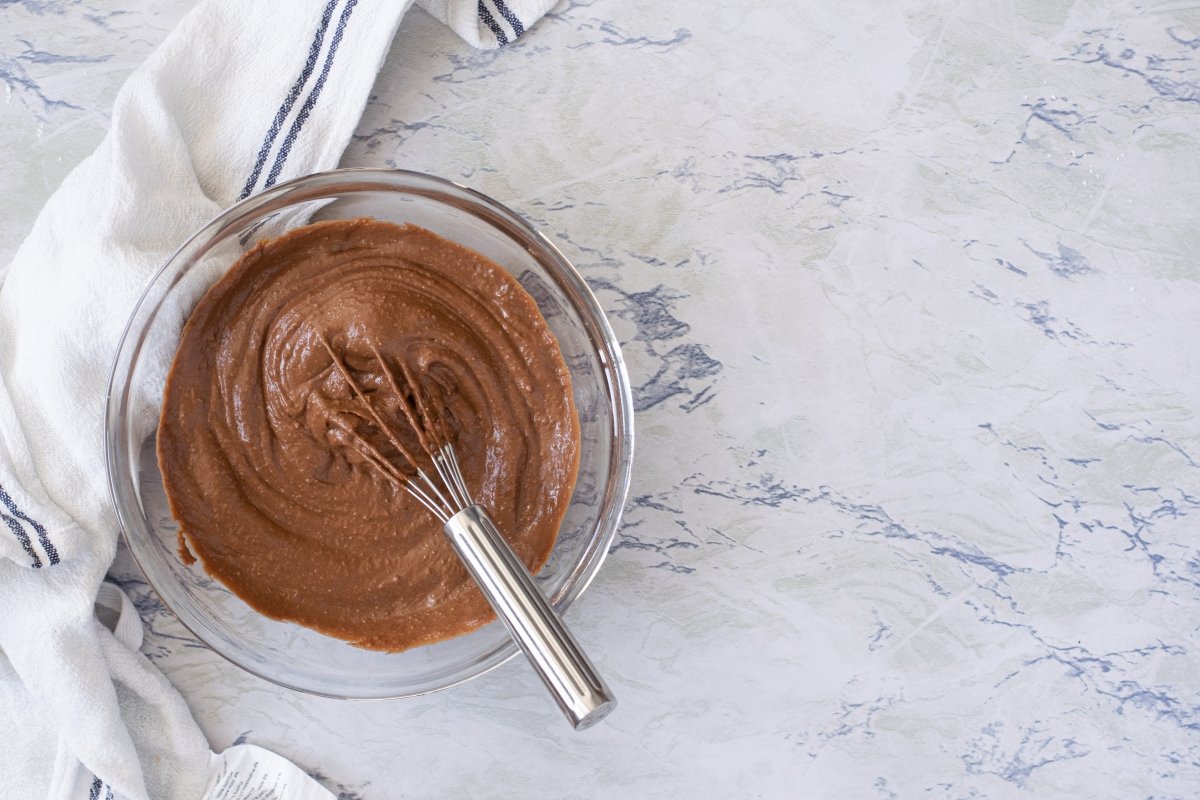 Marina Corma
We cut 1 sheet of puff pastry in half to obtain two sheets. We preheat the oven to 200 ºC with heat up and down.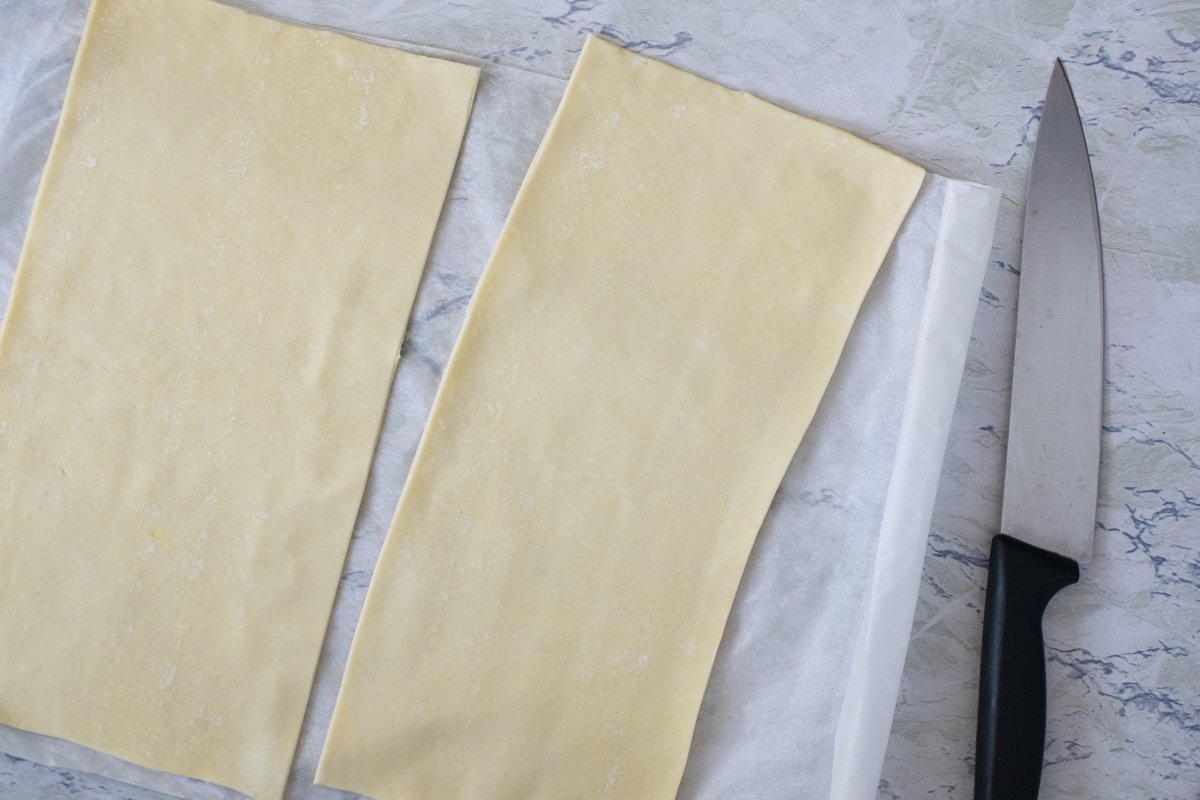 Marina Corma
We place a piece of parchment paper on a tray and sprinkle 2 tablespoons of icing sugar. We place the two sheets of puff pastry on top. Sprinkle the other 2 tablespoons of icing sugar on the puff pastry sheets. We cover with greaseproof paper and place a tray on top so that it provides weight and the puff pastry does not rise.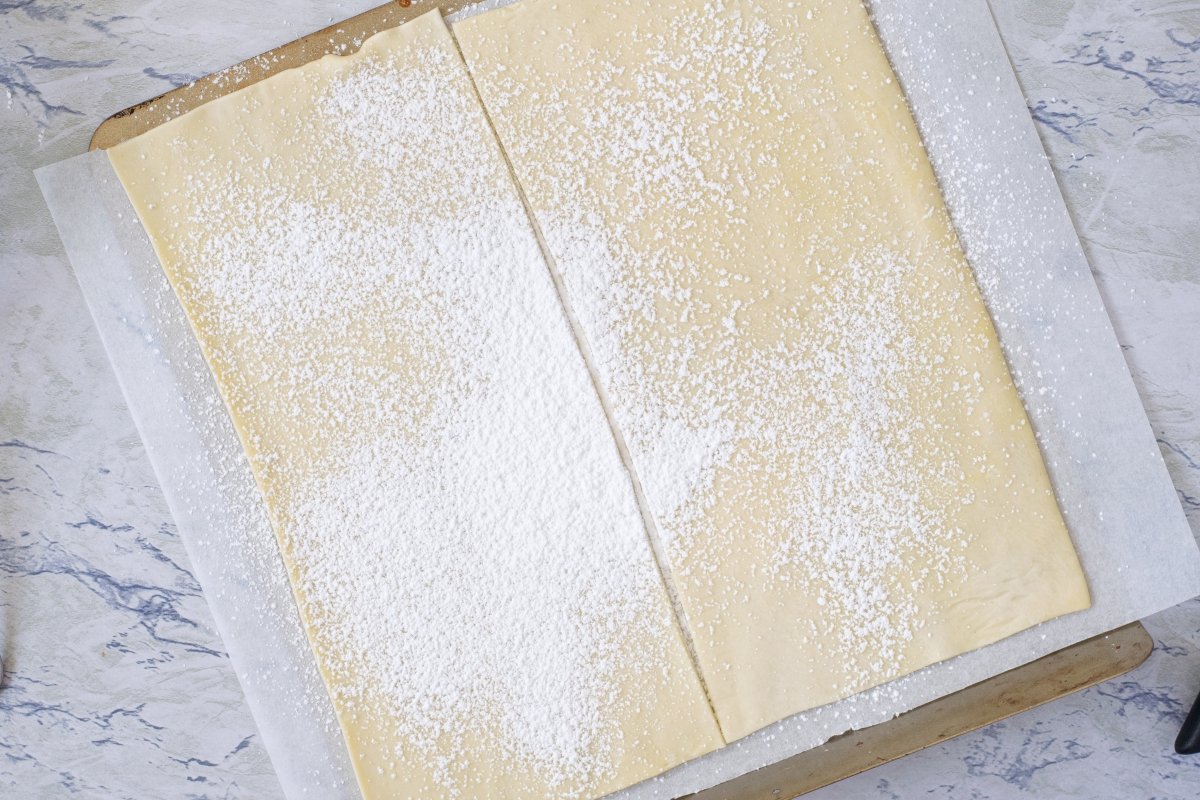 Marina Corma
Bake the puff pastry for 20-25 minutes or until we see golden edges. We take the puff pastry out of the oven, remove the tray and the paper that we had placed on top and let it cool completely.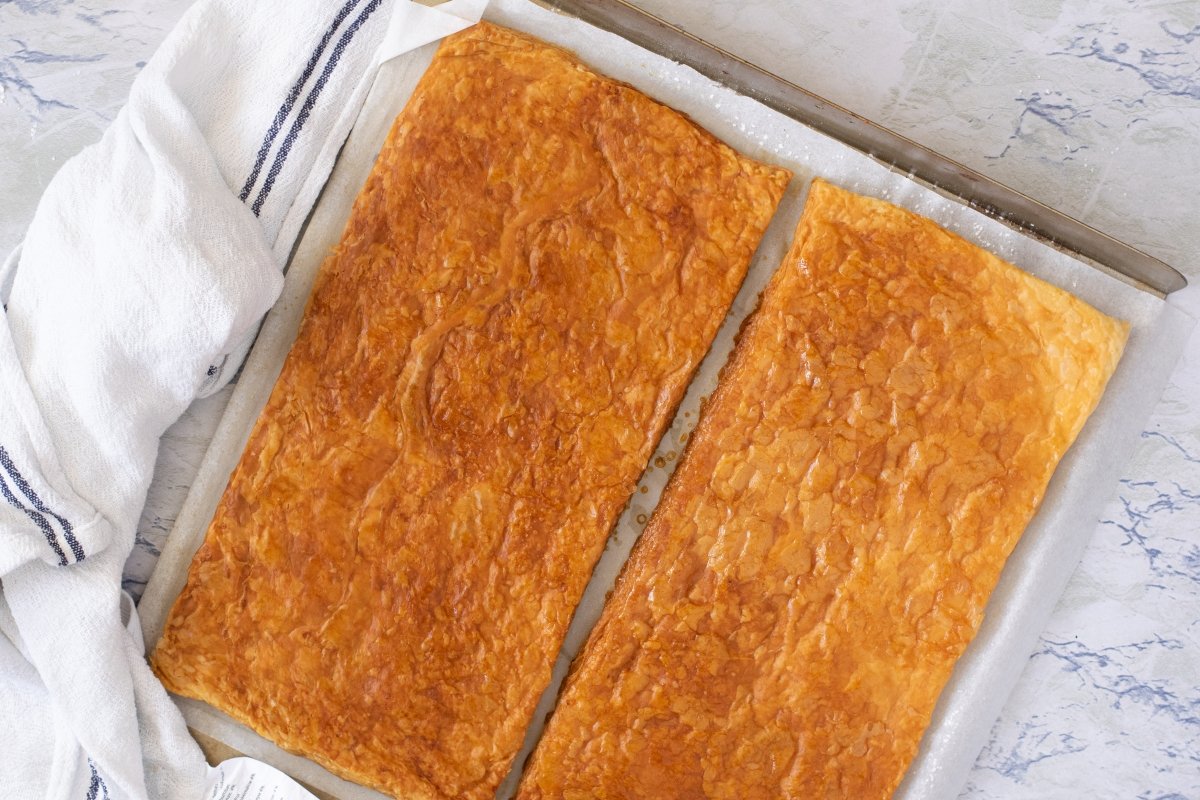 Marina Corma
When the puff pastry has cooled and the cream has gained consistency, we will begin assembly. To do this, we place the first sheet of puff pastry on the presentation plate and then arrange all the cream on the puff pastry. We smooth the surface and the sides if necessary. Next, we place the other sheet of puff pastry on top of the cream.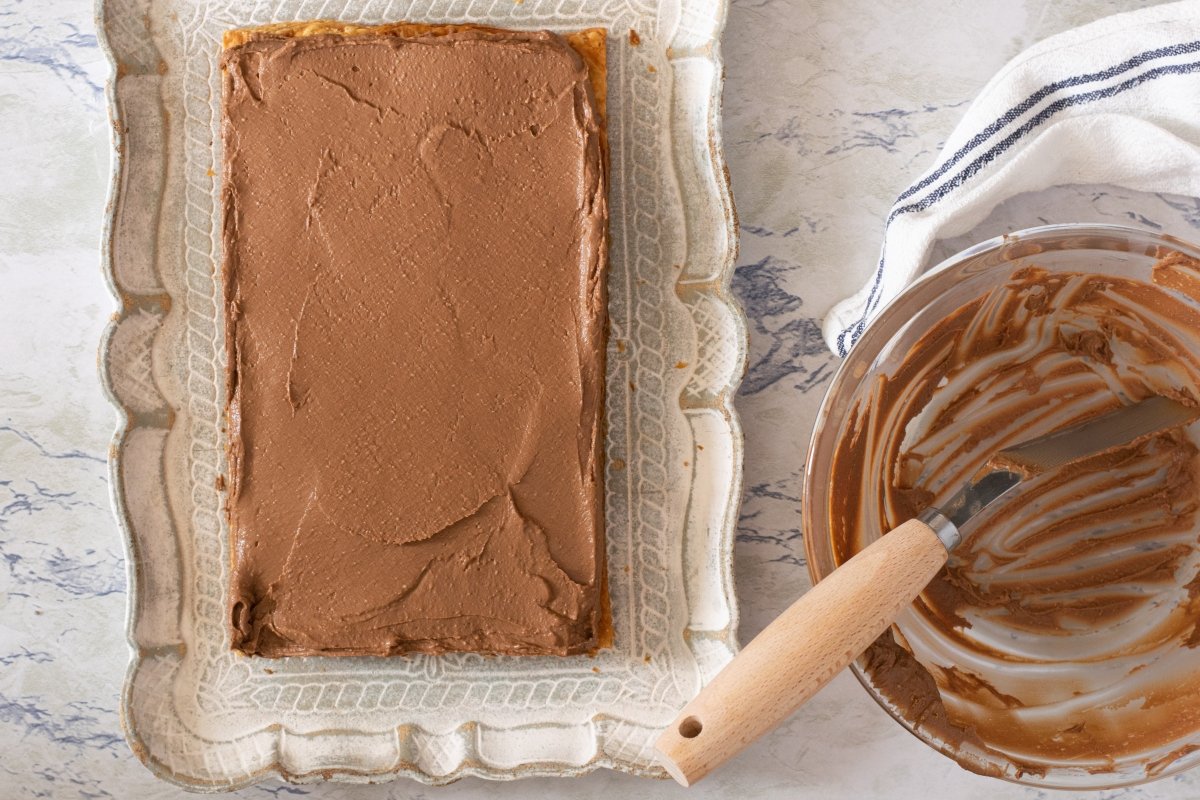 Marina Corma
We prepare the glaze. To do this, we mix 75 grams of icing sugar with 15 grams of unsweetened cocoa powder, 1 tablespoon of whole milk and 1 teaspoon of vanilla extract. We mix well until it has a homogeneous texture and color.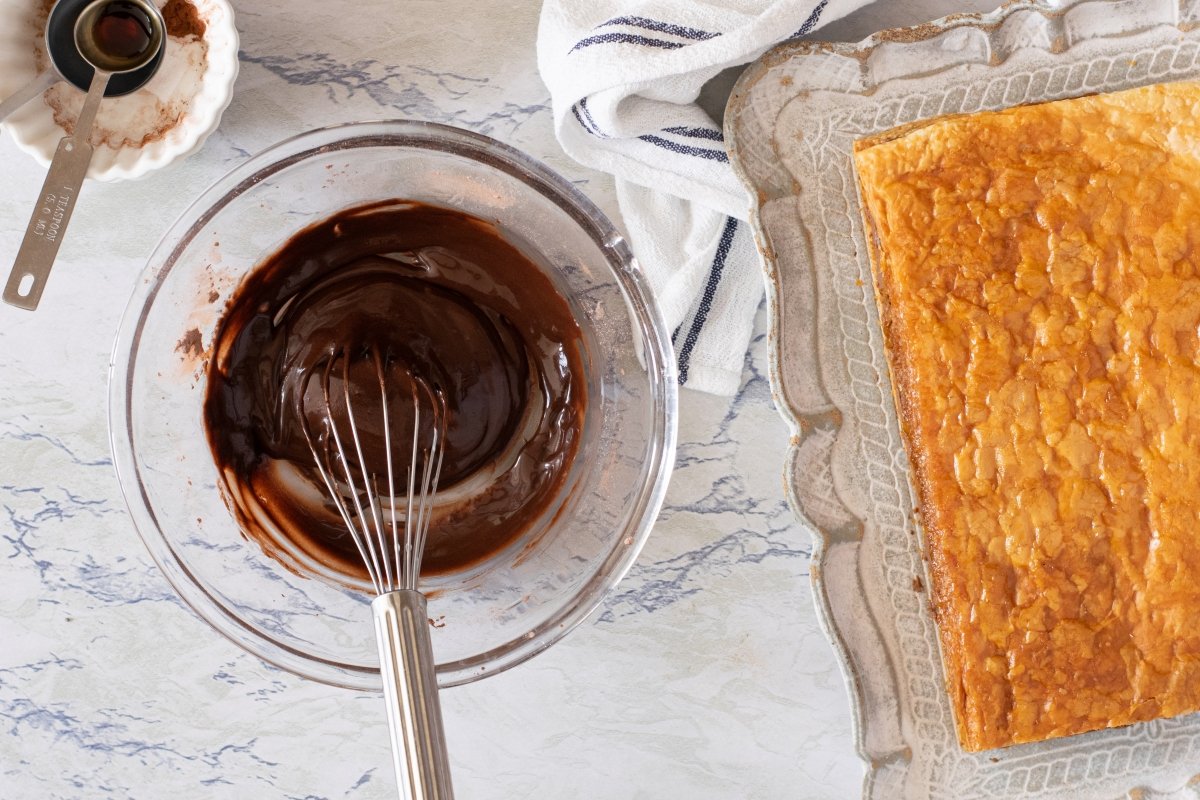 Marina Corma
We pour the glaze over the millefeuille and spread it with the help of a spatula. We let it dry before consuming. We reserve the millefeuille in the refrigerator until ready to serve it.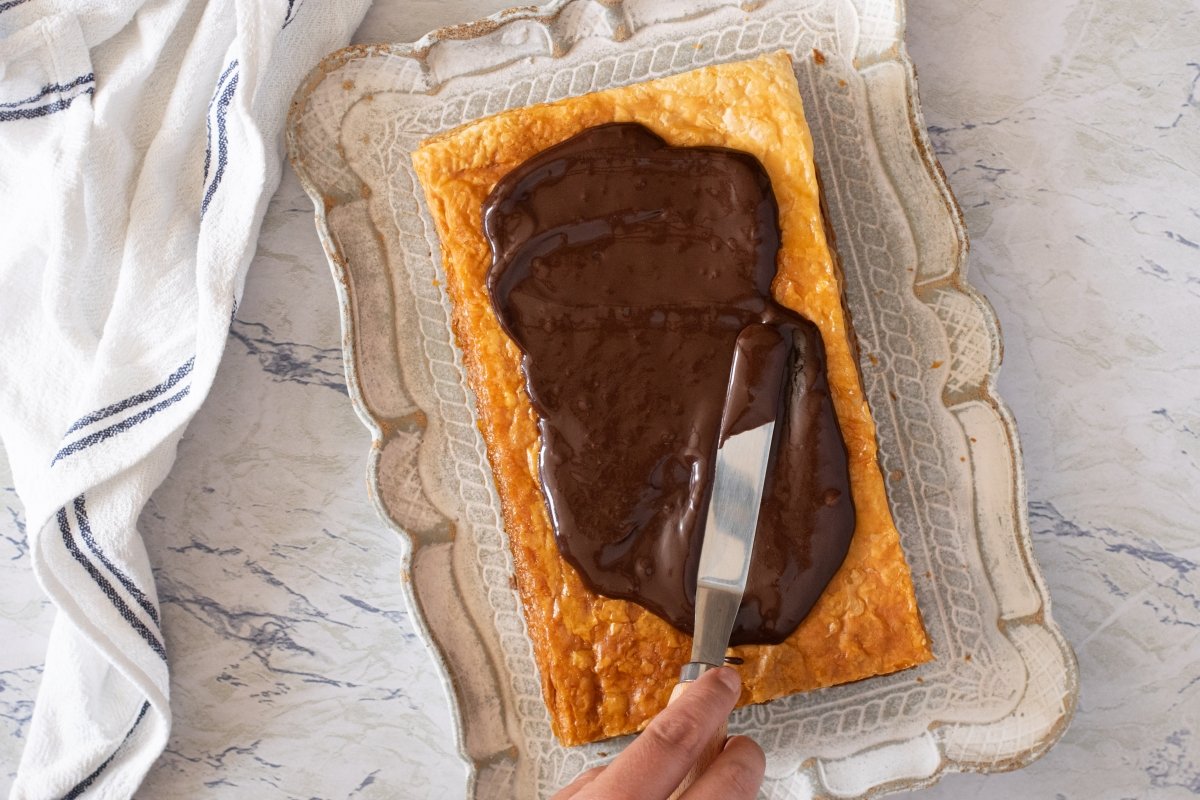 Marina Corma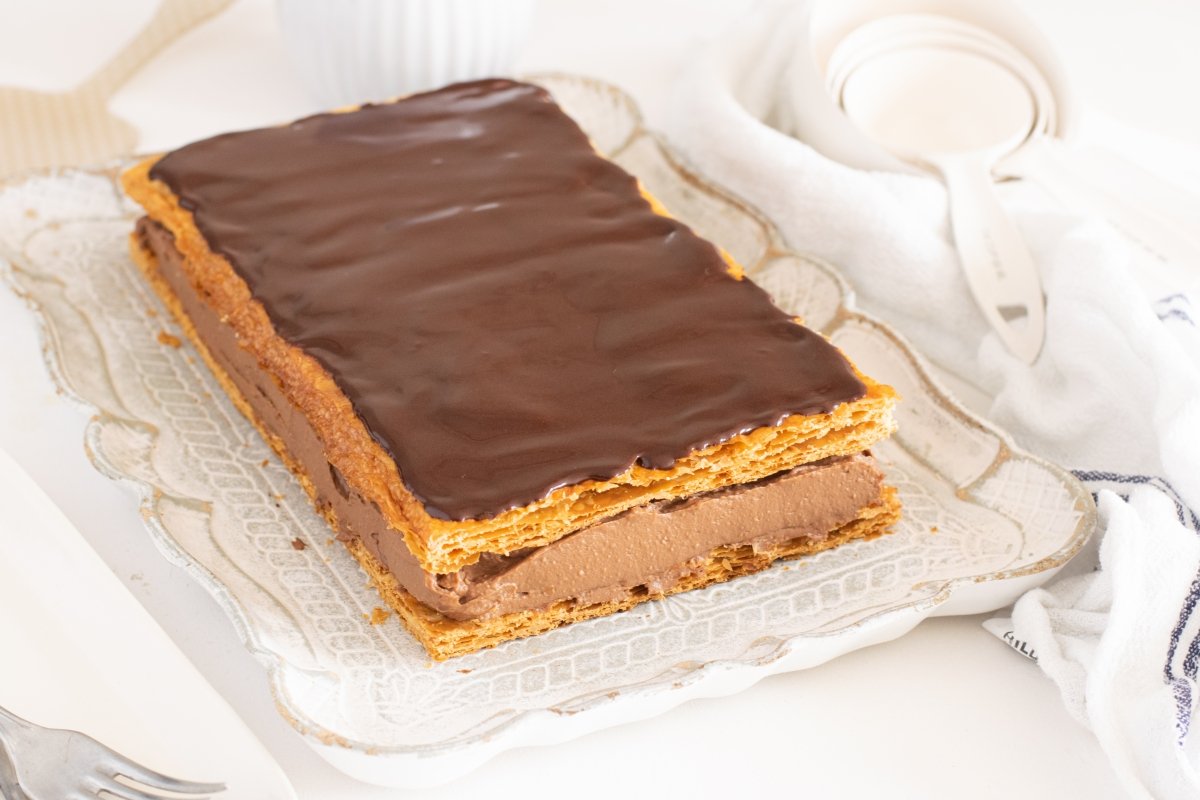 Marina Corma
Easy Preparation Summary
Mix the cream ingredients and thicken over medium heat.

We transfer the cream to a bowl

We integrate the chocolate into the cream and let it cool.

We divide the sheet of puff pastry into 2. We preheat the oven to 200 ºC with heat up and down.

Sprinkle icing sugar on both sides of the puff pastry, cover with greaseproof paper and place a tray on top.

Bake for 20-25 minutes and let cool completely.

We assemble the millefeuille filling the two layers of puff pastry with the chocolate cream

We prepare the glaze by mixing the ingredients of this

We pour and smooth the glaze, let it dry. We keep cold