Carnival curd, the classic from Granada to make step by step. If you have had the opportunity to visit the Granada city and you have stopped to look at the windows of their pastry shops, it is possible that, along with the famous piononos, you have seen other sweets decorated with icing sugar and drawings of cinnamon, above all, the first months of the year, when they are at their peak. These sweets are known as carnival curd, a traditional regional dessertbut not well known outside of it.
One of the most striking characteristics of the carnival curd is that among its ingredients are polvorones or mantecados. Therefore, if you decide to do it at home, it is an excellent idea to use recipe for polvorones that you have left over from the Christmas holidays.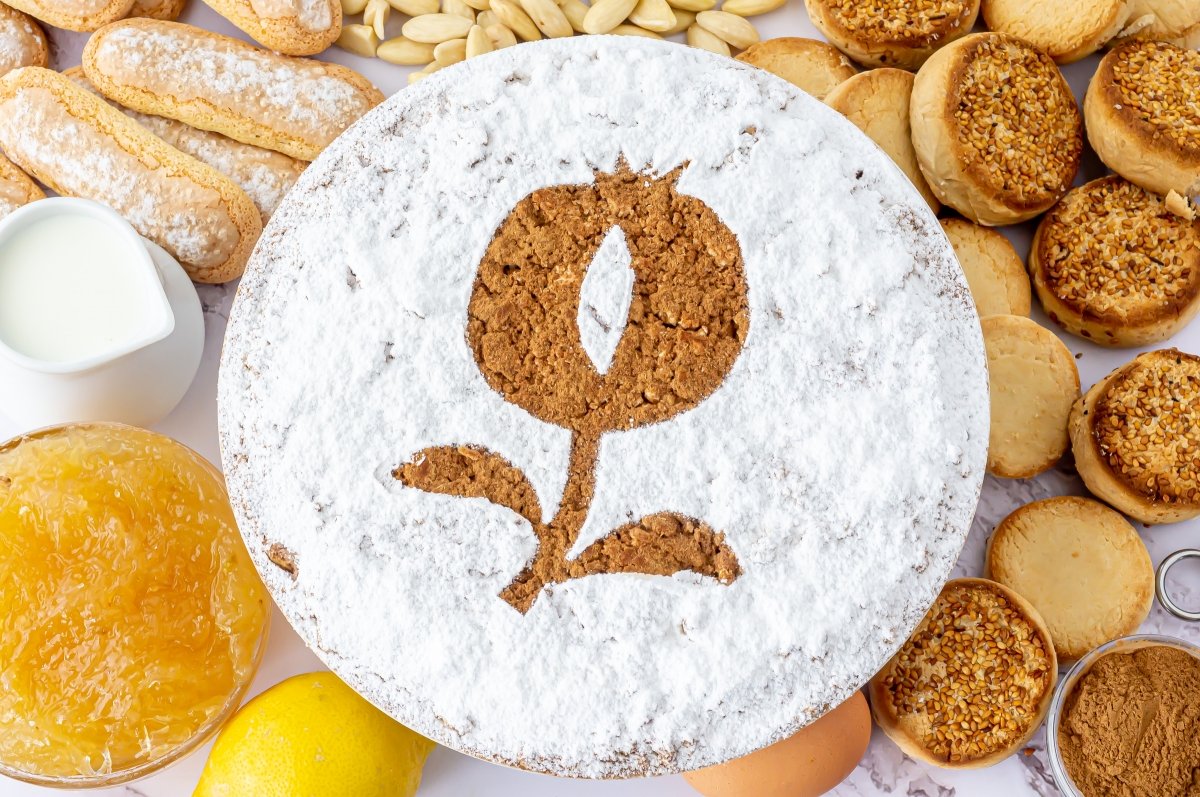 Damian Serrano
Another feature is that It is prepared in a ceramic bowl from Granada Basin-shaped, decorated with the pomegranate flower and Arabic motifs. Write it down as a souvenir idea. However, if you don't have it, don't worry, it's quite common to see it in other presentations as well: without a mold like a cake, rectangular, or even in individual cups. And you can always use a similar mold, as we have done on this occasion.
When preparing it, the mold is usually lined with polvorones and then alternate layers of cream, almonds, angel hair and, sometimes, sponge cake. Although it may sound quite "forceful", the truth is that its tasting is very pleasant. But don't be fooled, it's still a very "generous" dessert.
recipe information
Preparation time: 10 minutes
total time: 30 minutes (plus about 4 hours of rest)
type of cuisine: Andalusian
Calories per serving (kcal):493
Carnival curd ingredients
For the pastry cream:
For the curd:
100 g of peeled almonds or almond crocanti
400 g shortbread or mantecados
10 to 12 ladyfingers (optional)
150 ml of milk (to soak the biscuits)
1 splash of rum (optional)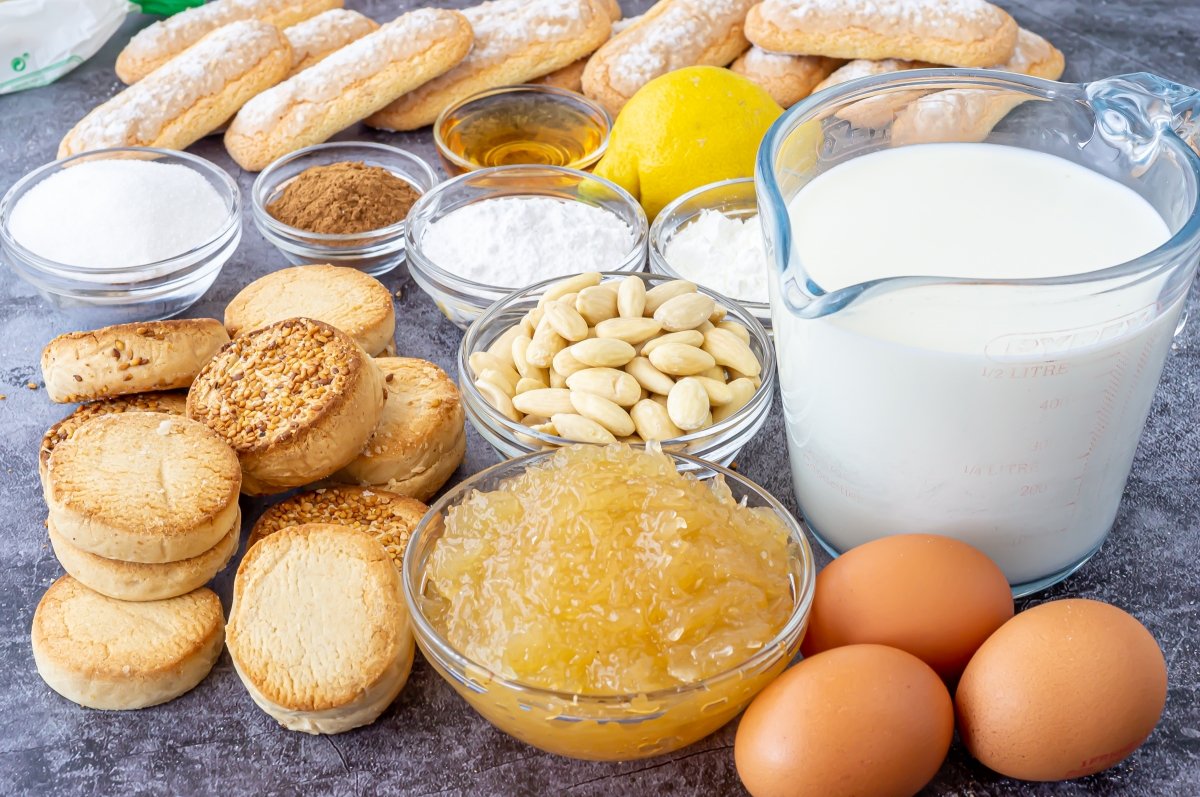 Damian Serrano
How to make carnival curd
We start with the pastry cream. We beat 3 eggs in a bowl and add 50 g of cornstarch and 50 g of sugar, mixing these ingredients well until everything is integrated. Add 350 ml of whole milk and the zest of 1 lemon. We put everything in a saucepan and cook over medium heat, stirring constantly, until it thickens. Some recipes tend to leave the cream a little runny, like custard. That already runs to your liking.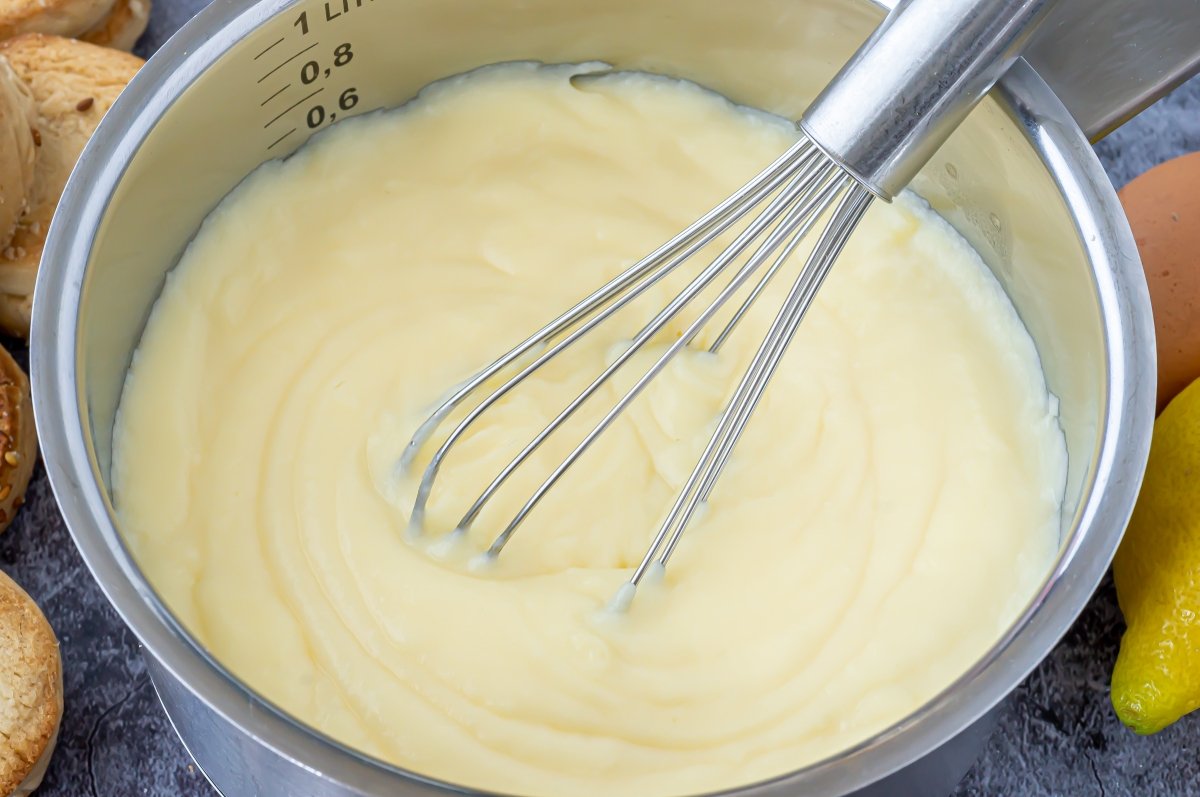 Damian Serrano
Once we have the pastry cream ready, we take 100 g of peeled almonds and toast them for about 10 minutes in the oven at 180ºC or in the air fryer, stirring halfway. It is enough that they acquire a golden color, so there is no need to be confused because they burn immediately. Let them cool down and then chop them with a knife into small pieces. We can also use almond crocanti and save this step.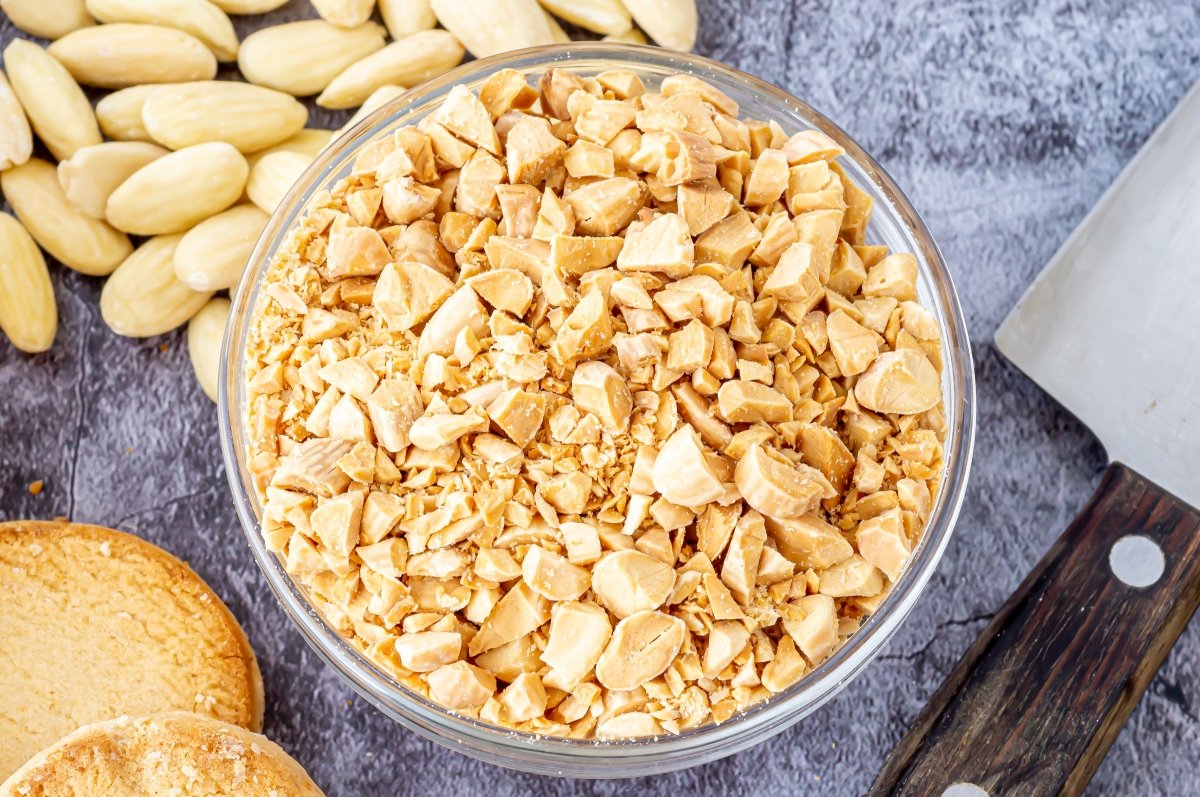 Damian Serrano
Continuing with the preparation, it is time to crumble 400 g of polvorones or mantecados. No matter the flavor, you can even mix them. We crumble them with our hands until we obtain a sandy consistency.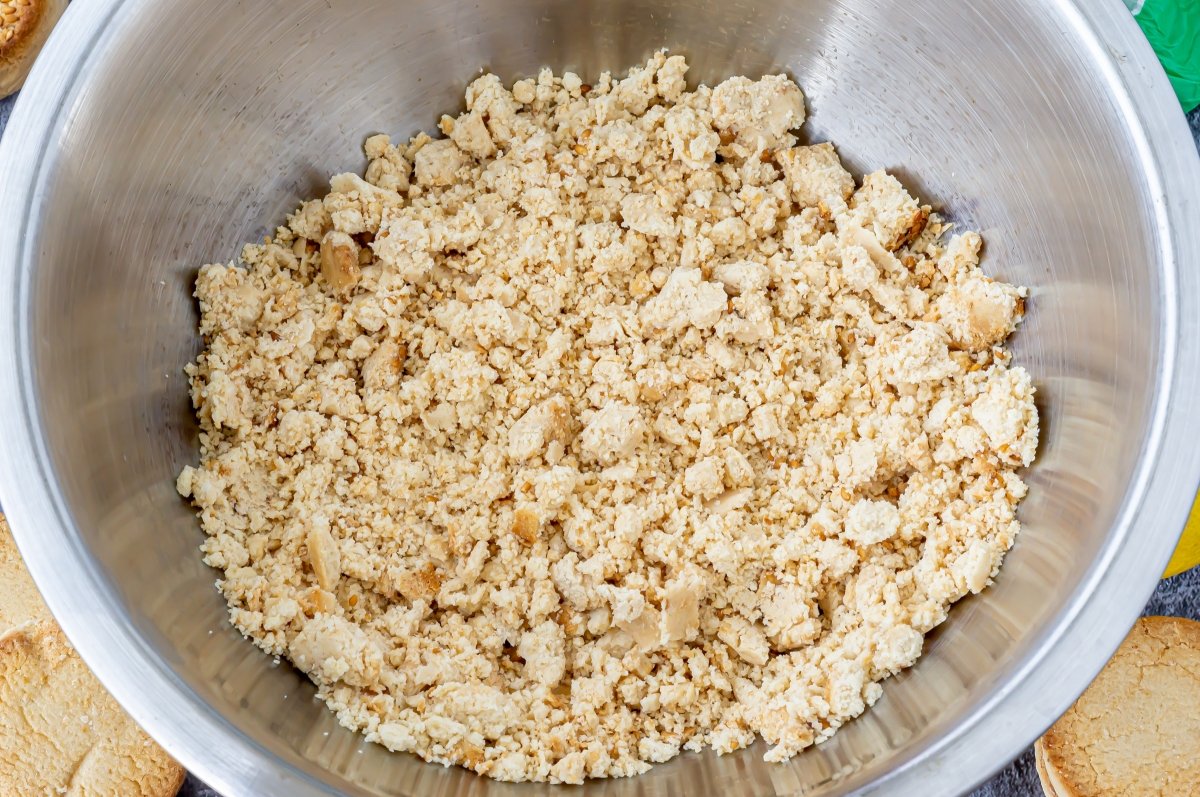 Damian Serrano
Immediately afterwards, we proceed to line the mold. We use ¾ parts of the polvorones to cover the bottom and the walls of our mold, pressing well so that they are very compact. The rest we will use later. If desired, it can be hit in the oven to firm it up. About 6 or 7 minutes at 180 ºC will be enough, so that the edges are slightly browned.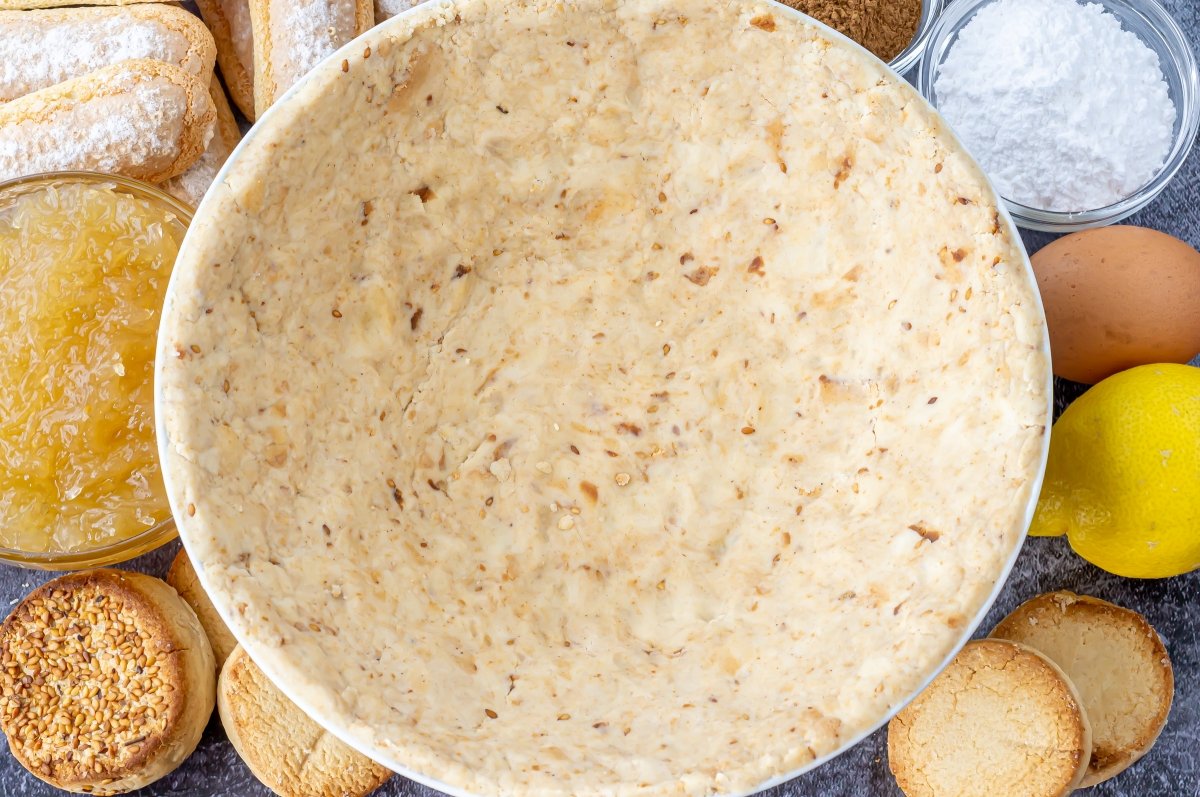 Damian Serrano
Next, we move on to assembling the curd. On the basis of polvorones, we spread a layer of our pastry cream making sure to cover everything evenly and that it has a thickness of half a centimeter or so.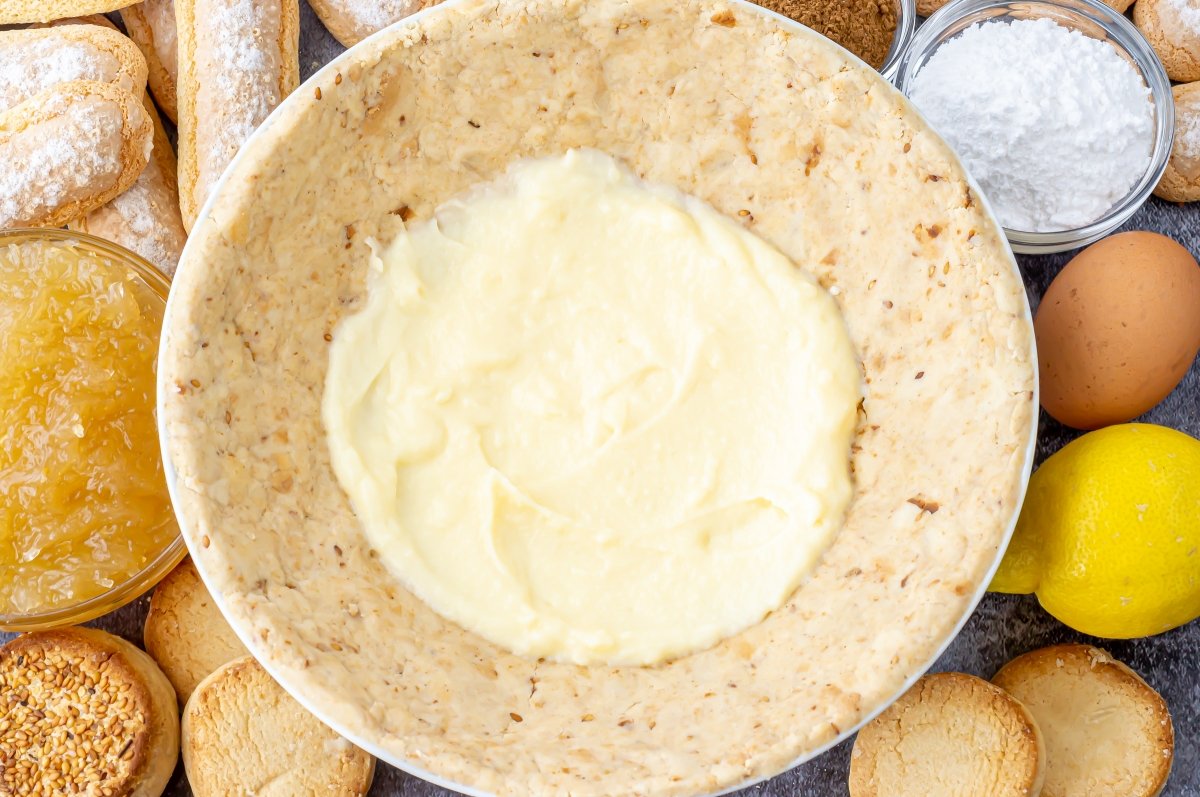 Damian Serrano
Then we sprinkle a part of the almonds and a little cinnamon powder on top of the cream.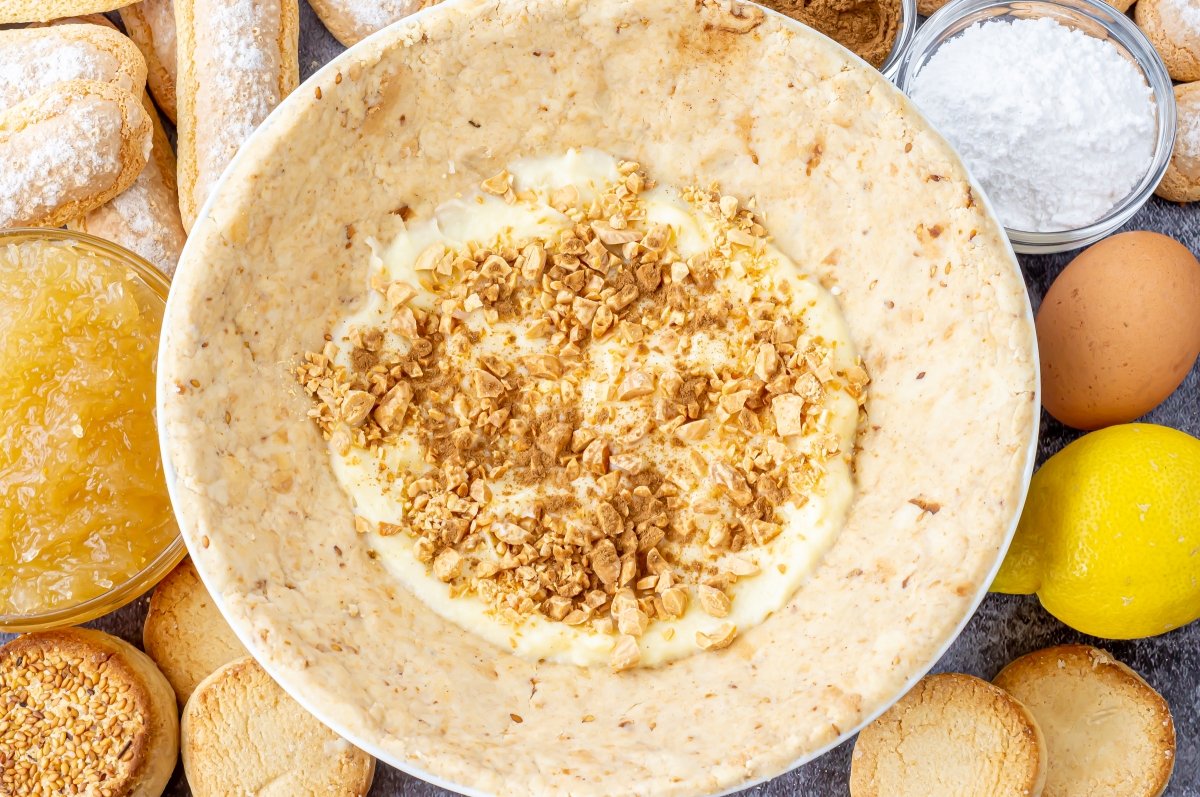 Damian Serrano
The next step is to add the angel hair. We will use a total of about 400 g like this, although it may be over. At this point, we spread a thin layer using half of the angel hair over the almonds, making sure it is even. It is more difficult to spread than pastry cream, but little by little it is achieved.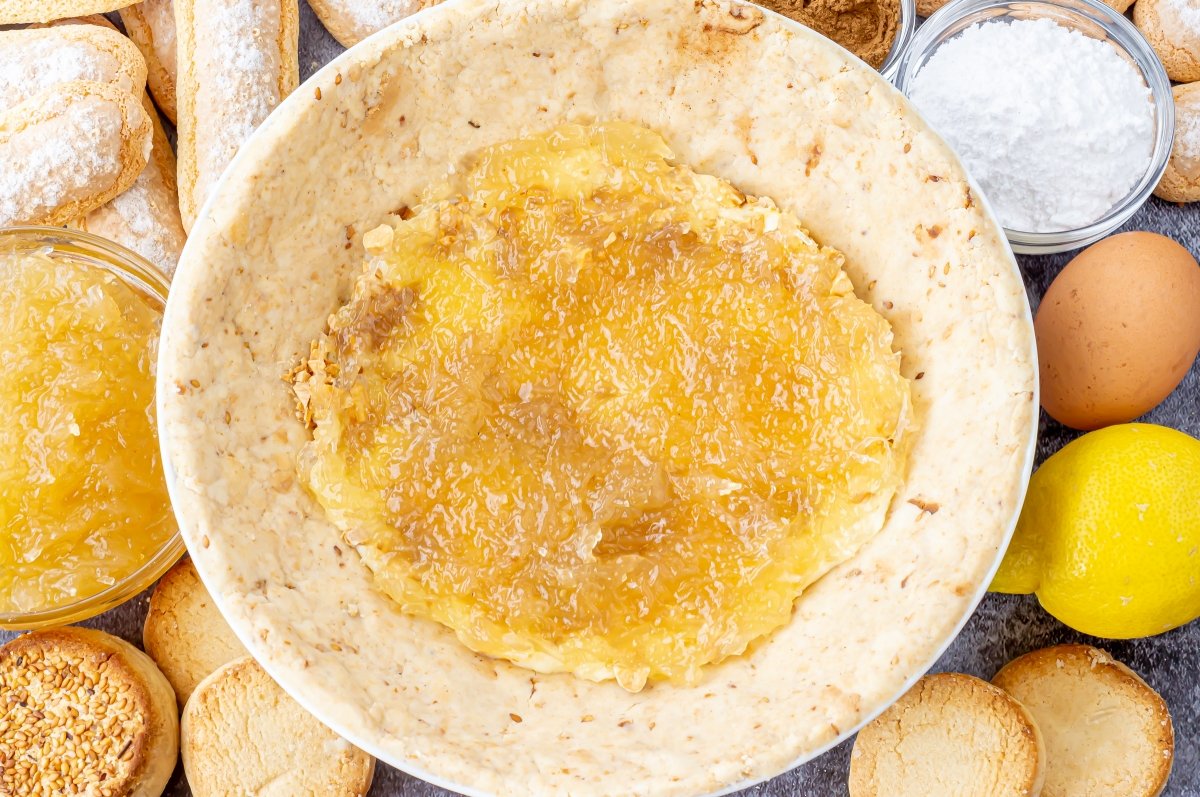 Damian Serrano
Then, we will also have about 10 to 12 lady cakes prepared. We put on the angel hair a layer of biscuits soaked in a mixture of 150 ml of milk and 1 splash of rum. The biscuit layer is optional, but we recommend it because it gives it a juicier touch. Another alternative is to soak the biscuits in syrup instead of milk.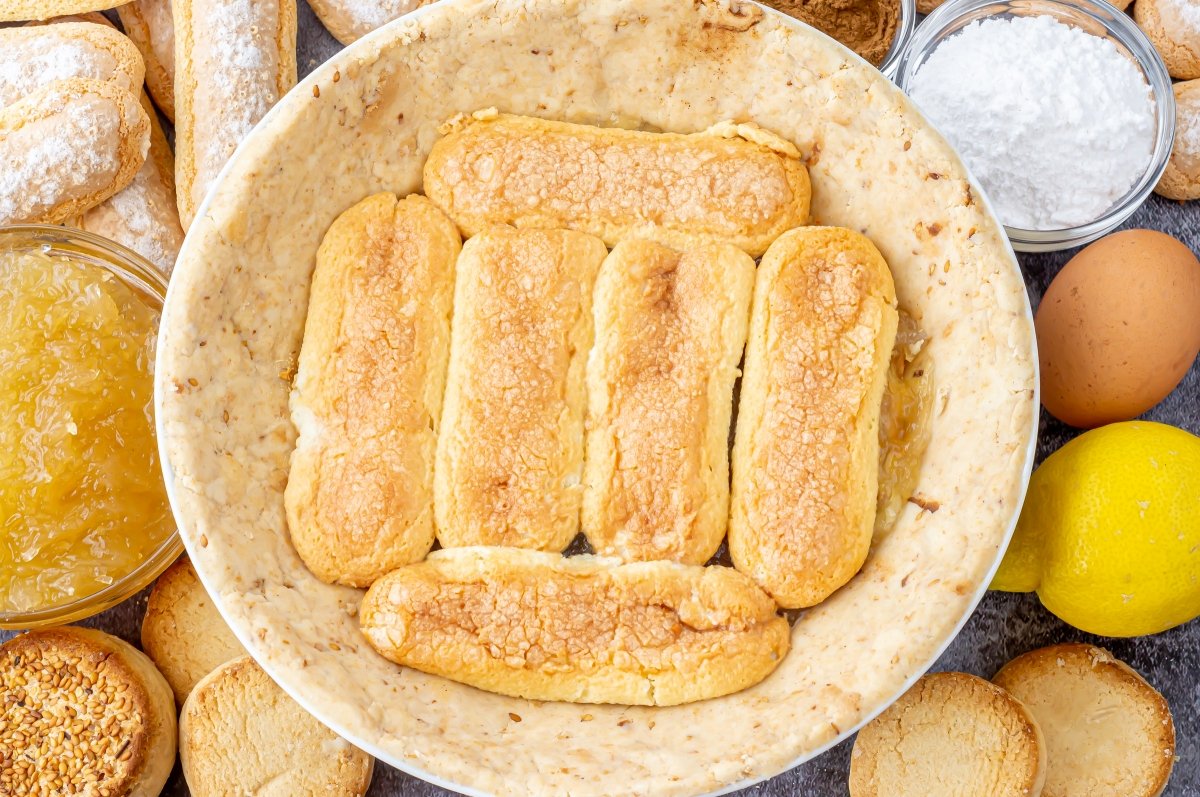 Damian Serrano
We repeat the layer of pastry cream, almonds and cinnamon on the biscuits. Thus, we continue building our curd by layers.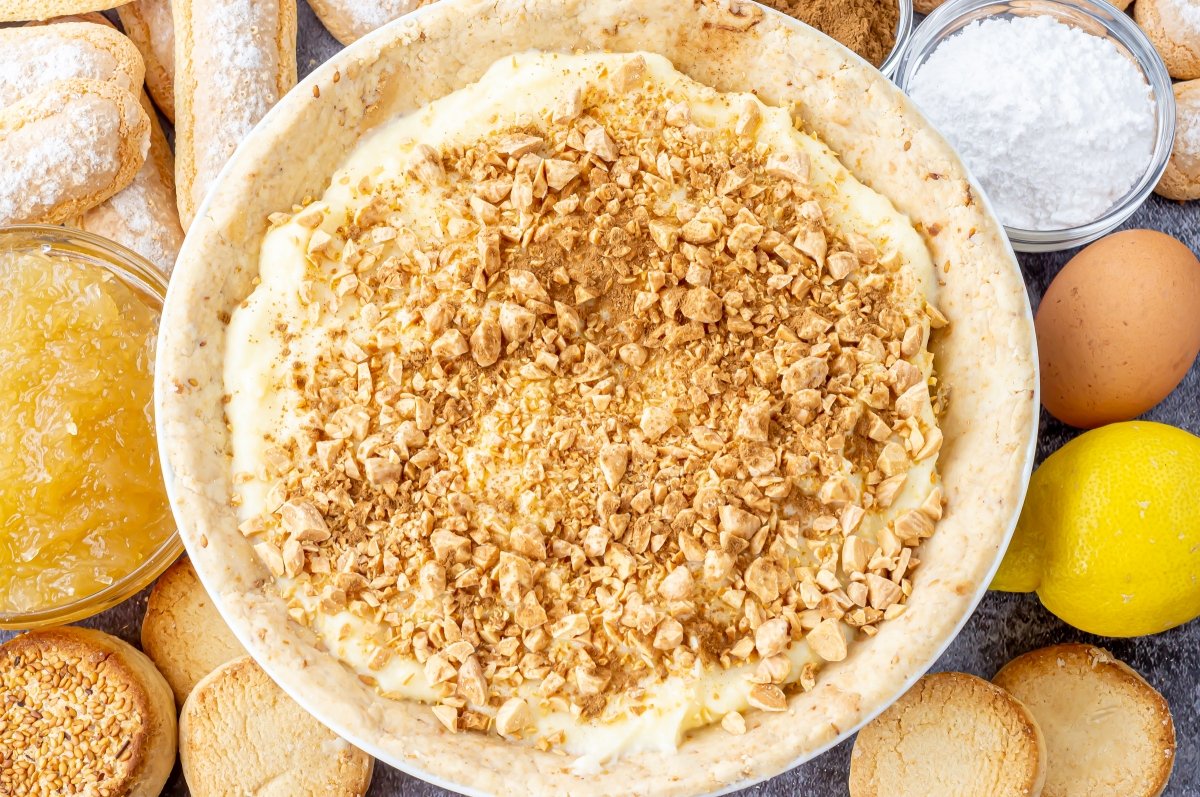 Damian Serrano
Now, we put a layer again with the other half of the angel hair.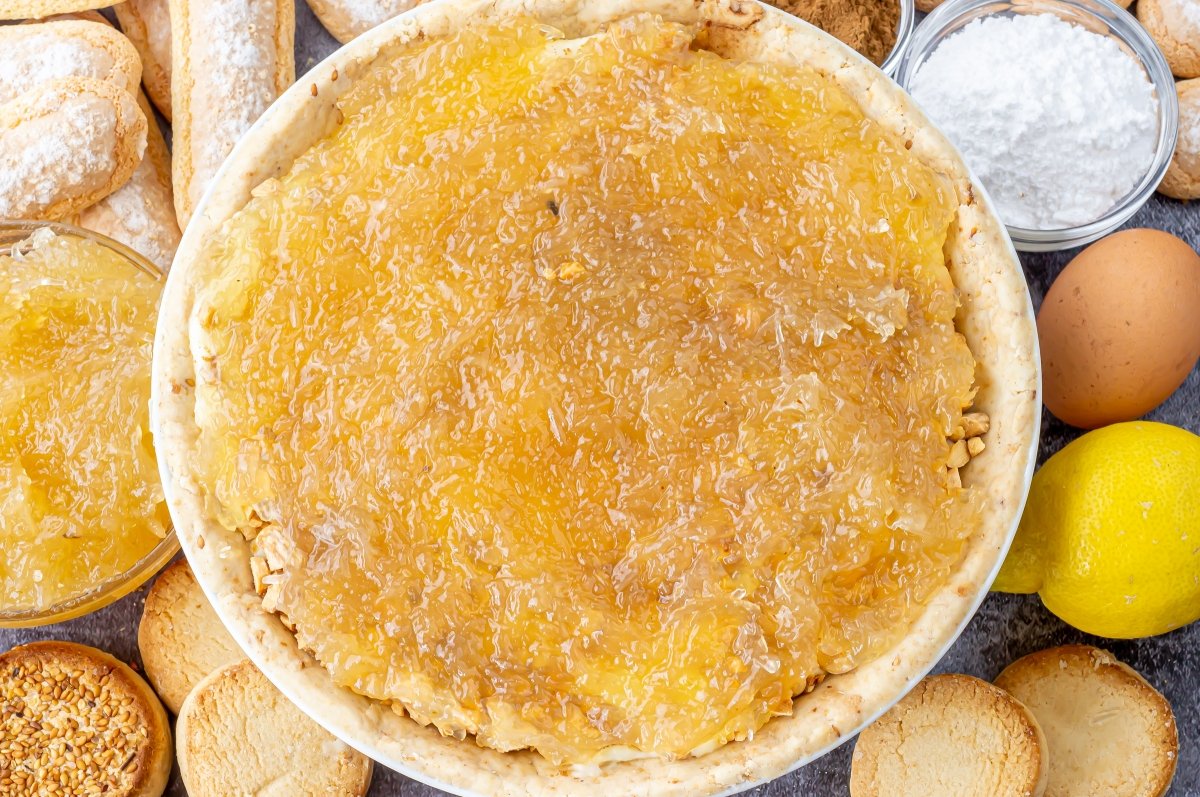 Damian Serrano
Then, we put another layer of sponge cakes soaked in milk with rum, a little pastry cream, and we finish with the rest of the crumbled polvorones. With all the layers ready, we let our carnival curd rest for 4 hours in the fridge so that it takes shape and the flavors settle.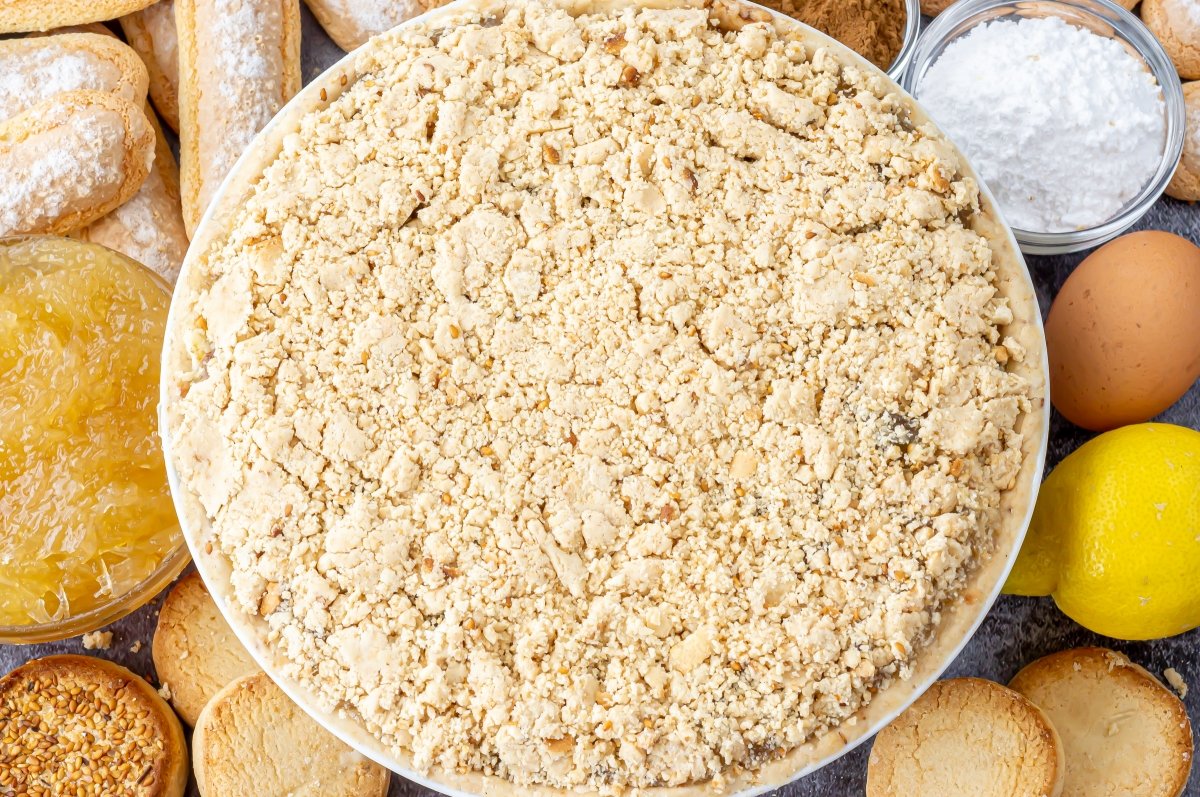 Damian Serrano
Before serving, we sprinkle cinnamon all over the surface of our curd. It is best to do it with the help of a strainer so that it is uniform.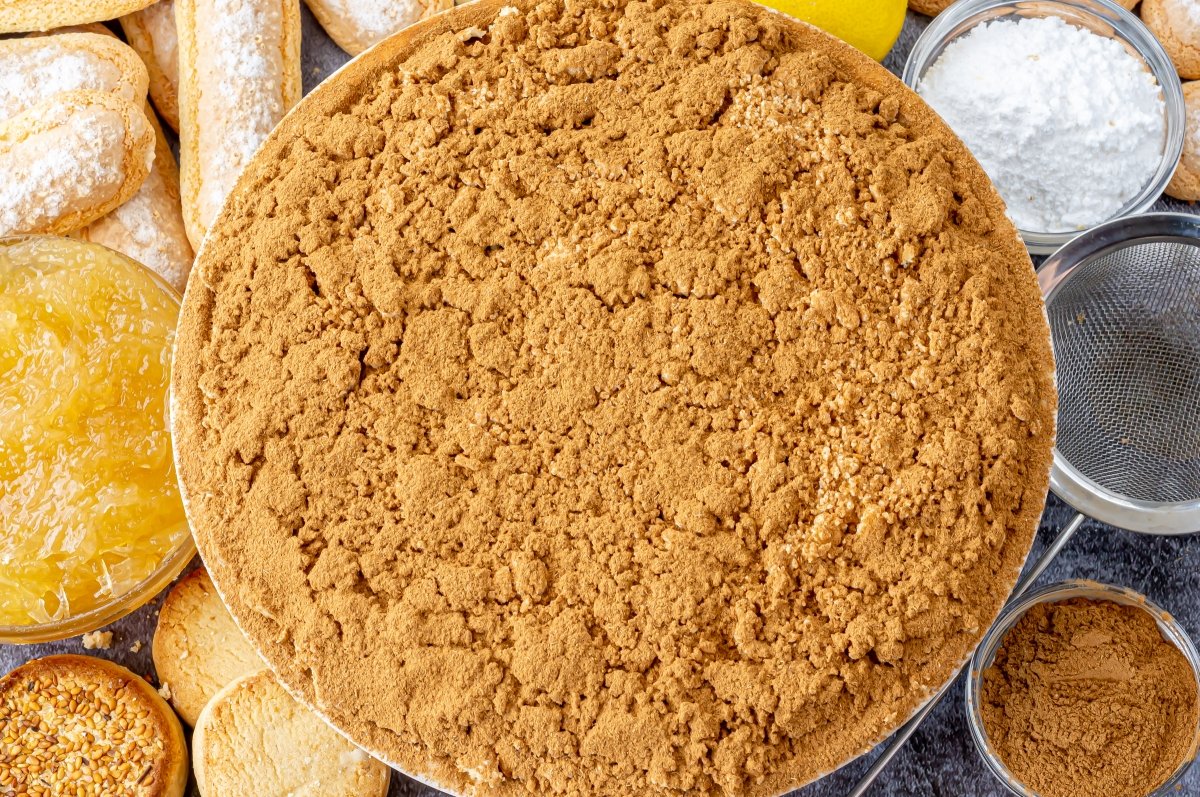 Damian Serrano
Next, we place in the middle of our curd a cut out drawing of a pomegranate or whatever we want.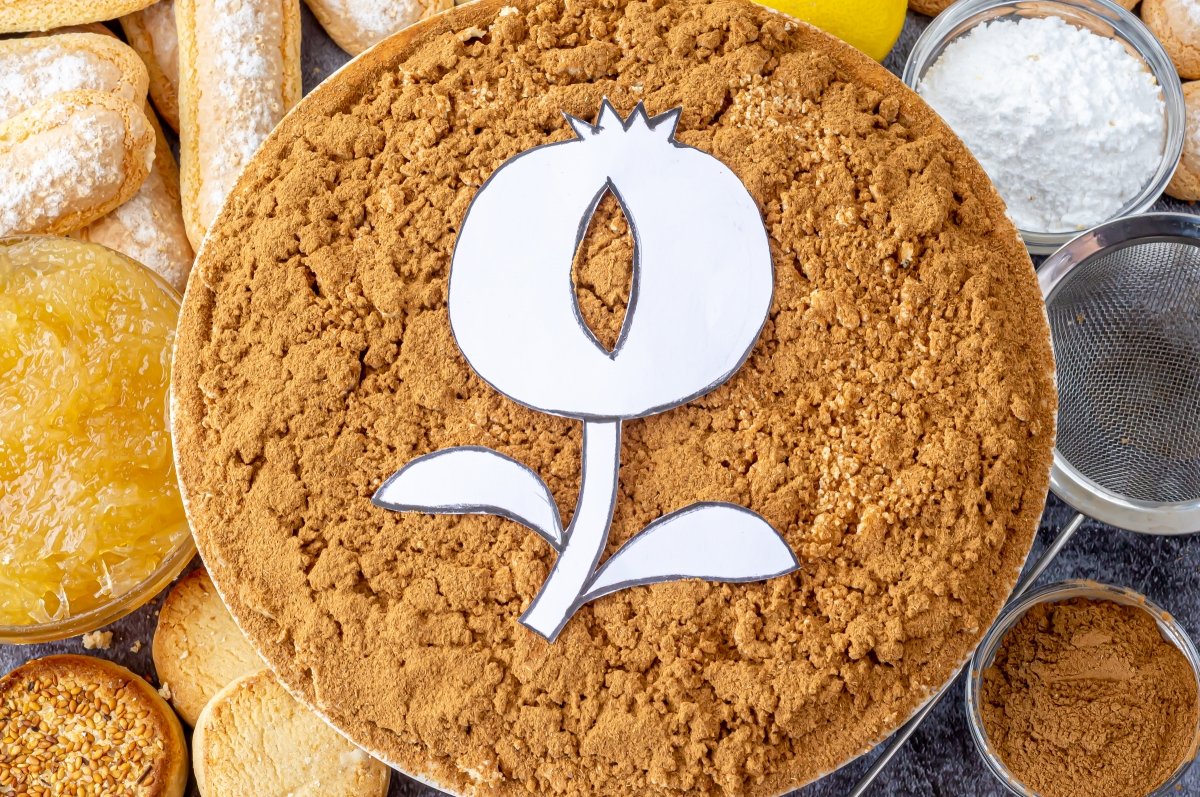 Damian Serrano
To give it the final touch, we sprinkle icing sugar over all the curd, also covering the drawing of the pomegranate. As before, it is best to help yourself with a strainer so that it is well distributed.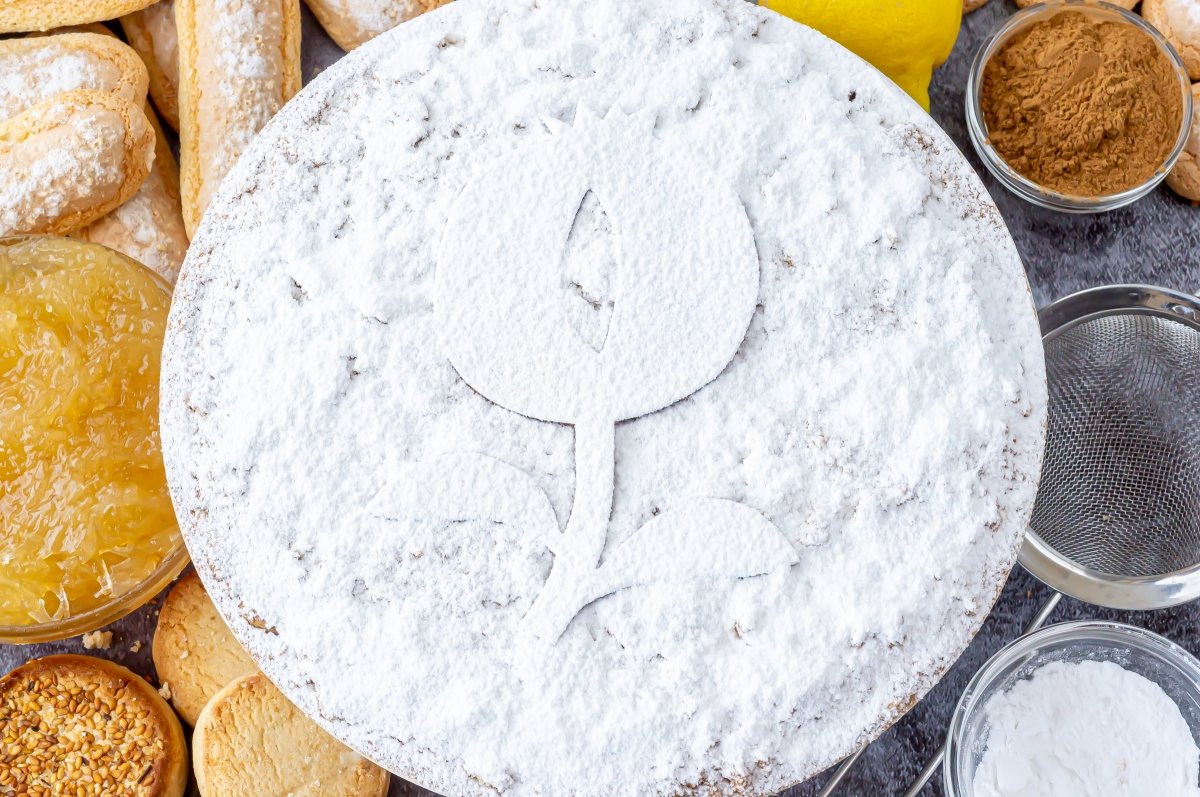 Damian Serrano
We carefully remove the paper to reveal our drawing and… that's it! Our carnival curd is ready to enjoy.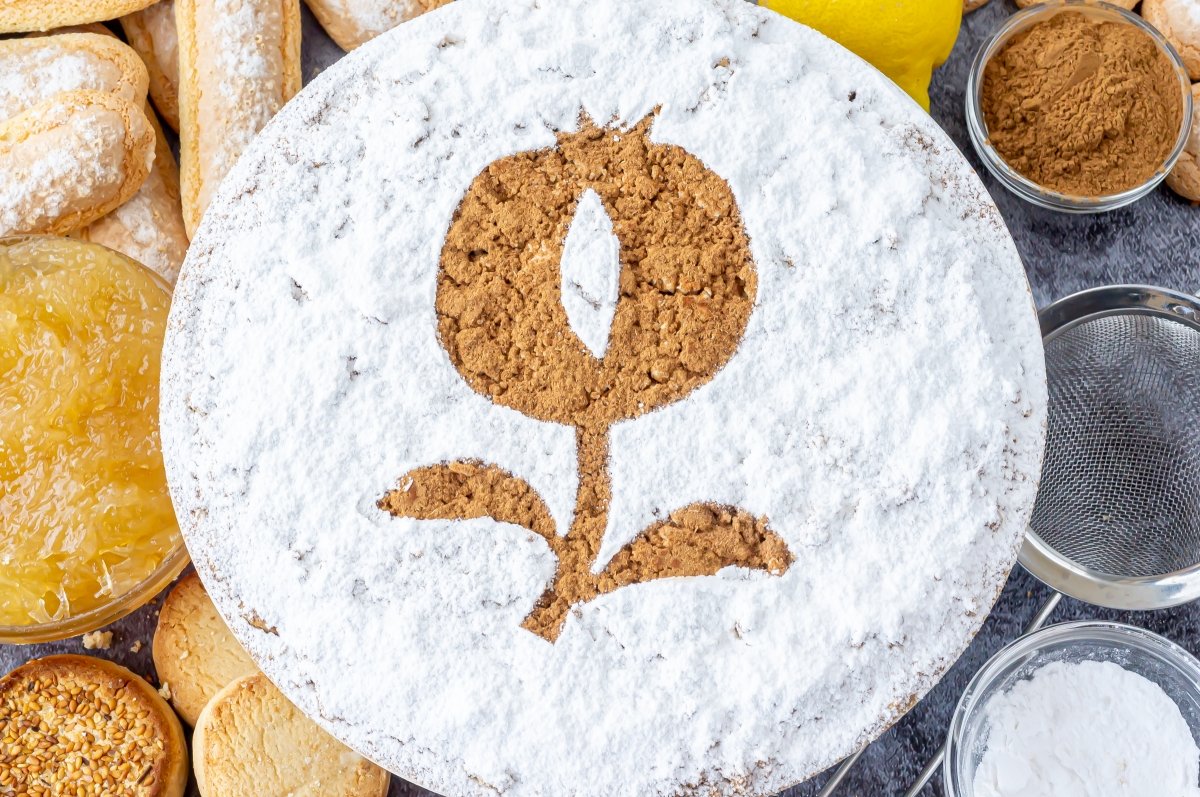 Damian Serrano
Easy preparation summary
Mix the ingredients for the pastry cream and heat over medium heat until thickened, stirring constantly
Toast and chop the almonds
Crumble the polvorones
Line the mold with ¾ of the polvorones
Put a layer of pastry cream on the bottom
Sprinkle almonds and cinnamon
Spread a thin layer of angel hair
Put a layer of biscuits soaked in milk with rum
Repeat the layer of pastry cream, almonds and cinnamon
Add another layer of angel hair
Put another layer of cake, a little pastry cream, the rest of the crumbled polvorones and let it rest for 4 hours in the fridge
Before serving, sprinkle with cinnamon all over the surface
Cut out a pomegranate drawing and place it in the middle
Sprinkle with icing sugar on top
Carefully remove the drawing and you're done